Are you a writer? Yes, absolutely. You are a writer. (Declare it – tweet it.)
But that was the wrong question. The right question is in the title of this post:
Do you want to be a writer who gets noticed?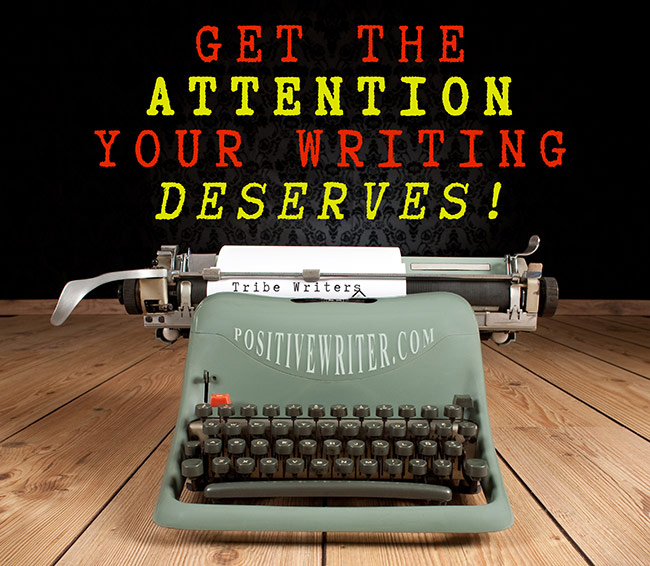 We write to tell and share our stories, but…
You need an audience for your writing. (Tweet This)
I just feed off the energy of the audience.

-Larry David
It's easy to say you need an audience and I am sure you already know that. What you want to know is how.
I'm going to reveal a secret, I've taken Positive Writer from 0 to 60,000+ monthly readers, and won multiple blogging awards, in less than 12 months thanks in no small part to a course I took online, Tribe Writers.
Tribe Writers, is the best online course to help you find the audience your writing deserves. It's a course that helps writers discover their voice and build a platform that gets them not only noticed, but published, too.
Tribe Writers, created and taught by Jeff Goins, teaches you how become the awesome writer you're meant to be!
Here's what Tribe Writers offers:
Practical Curriculum
Packed into this course is eight weeks worth of lessons on writing, publishing, and building an audience available in text, audio, and video formats — plus weekly assignments and action steps.
Discussion Forums
Along with the lessons, you'll get opportunities to interact with others going through the course and even ask questions.
Surprise Guests
In addition to getting all the inside knowledge, you'll also get to hear from pros who have built successful careers in writing and publishing. Look out for special guests and expert interviews.
Interactive Community
In addition to the forums, you'll have opportunities to meet others going through the experience and make lifelong friends and advocates.
To get the truth, you want to get your own heart to pound while you write.

-Robert McKee (Tweet this quote)
The writers who have taken the course are accomplishing things you just won't believe until you see for yourself what they are doing.
Thanks to the class, you won't just become another inspired and motivated writer, you'll become informed and able. I know you will do amazing things using what you learn.
It's for every writer
Tribe Writers is not just for those who are new to writing and blogging, there are students from all stages of the writing, tribe building and publishing process.
The amount of content in the course is staggering, obviously, but Jeff doesn't stop with the lessons themselves, he has tons of interviews and add-on tutorials beyond the main course content and he keeps adding!
There is no agony like having an untold story inside you.

-Zora Neale Hurston (Tweet this quote)
Or, perhaps better said, there's no agony like having written a meaningful story, but not have an audience to share it with.
There's something else I love about Jeff's Tribe Writers course that goes way beyond the lessons.
He has created a community of writers who help each other every day. You see, Jeff offers the course over several weeks, but those who sign-up are lifelong members.
Indeed, the community is filled with brilliantly helpful people who truly care about each other.
We are waiting for you to join us.
Click here to read more about Tribe Writers from Jeff himself. Do yourself and your writing a favor, check it out.
If you have any questions about the course, feel free to ask in the comments.