I am offering a new drawing and mini writing contest. It's easy to enter both events, all you need to do is write an honest review of the book The Audacity to be a Writer. 3x $25.00 and 1x $100.00 Amazon Gift Cards.
Here's how to enter…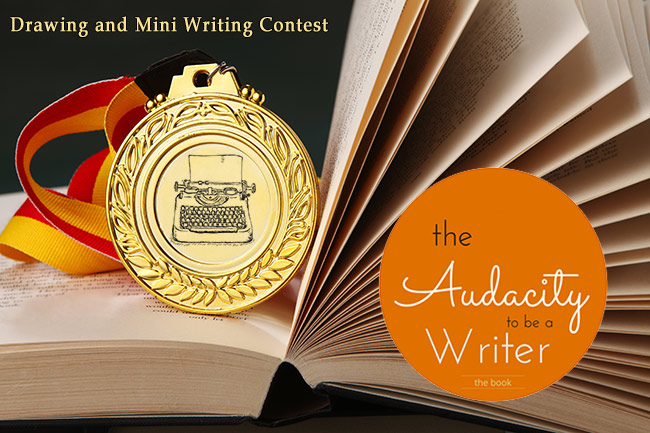 I promised that I would be creating more events and contests, and what better way to start doing that than using the book for which the proceeds are meant for exactly that.
How To Enter:
Review Drawing: Post a review of The Audacity to be a Writer on its Amazon page to enter into a drawing for a $25.00 Amazon gift card. 3 Amazon gift cards will be awarded. To officially enter you must post the link to your review below in the comments section to this post.
Mini Writing Contest: I will pick a quote from one of the reviews to use in the sidebar below the picture of the book. (As an example of what I mean, see the quote in the sidebar below Writer's Doubt.)  If a quote from your review is chosen you will receive a $100.00 Amazon gift card. Simply write an honest review. I've found that the best quotes about products tend to be from unbiased, honest reviews.
The contest and drawing ends 1 July.
That should be enough time to post your review and get your name in the hat, but give yourself extra points for entering as soon as you can and extra-extra points for posting your book review on your blog, too.
The drawing will be conducted via an automated online random drawing app and the quote will be selected based on secret conditions as to not influence your reviews, just post a well written review and it will be carefully read for quotes that qualify.
The contest is open to anyone who can write a review on Amazon and can receive gift cards from Amazon US.
Have fun. I look forward to reading your review. Post your review link in the comments.
The "extra" and "extra-extra" points are just for fun and do not count. 🙂
All contributors to The Audacity to be a Writer are: Bryan Hutchinson, Joe Bunting, C.S. Lakin, Ali Luke, Marcy McKay, Shanan Haislip, Andy Mort, Christine Frazier, Liwen Ho, Chelsea Nenno, Claire DeBoer, Kate I. Foley, Josh Irby, Stacy Claflin, Nicole Gulotta, Dana Sitar and Bryan Collins.
"A professional writer is an amateur who didn't quit." —Richard Bach