I am very happy to announce the launch of my new book "HAPPY EVERY DAY – Simple, Effective Ways to Better Days"
In celebration of today's launch I have created 2 writing contests and 2 drawings for you to enter. You can win a Kindle Paperwhite, Kindle Fire and a Kindle E-ink (or the Amazon Gift Card equivalents) and more!
The contests:
Amazon Book Review
Drawing for a Kindle Paperwhite
This first contest is a random drawing, but as you know, the key to winning a random drawing is to have your name in the hat. Right?
Via Story Cartel I am giving away free copies of "Happy Every Day – Simple, Effective Way to Better Days" in exchange for your honest review. That last part is very important, because in order to participate in the contests I am presenting here, you need a copy of "Happy Every Day".
More than ever before, reviews on Amazon are vital to the success of any book. For most people who purchase books from Amazon, the first thing they notice are the reviews. The more reviews the better, especially if the reviews are honest and helpful.
If you'll help me fill my Amazon book's page with honest reviews, Story Cartel will put your name into a drawing for a Kindle Paperwhite (or the Amazon Gift Card equivalent).
If this sounds good to you, click here to get your free review copy from Story Cartel. The review copy is available until 14 October 2013. After the 14th, the book will only be available on Amazon.
On a personal note, I'll be very happy if you also post your review on your blog and link to the book. If you do, I'll put you in for another drawing for a $50.00 Amazon Gift Card (see details below).
Special thanks to Jeff Goins, author of In-Between and Wrecked for writing the foreword to "Happy Every Day"!
It's a manual for life, for how to live with more significance and greater satisfaction.

~Jeff Goins
Book Description Writing Contest
For A
Kindle Fire
THIS PART OF THE CONTEST IS OVER AS OF 15 Nov 2013.
This contest is for the best written and most compelling book description of "Happy Every Day".
The Grand Prize winner of the book description contest will win a Kindle Fire (or the Amazon Gift Card equivalent). 2 Runner ups will receive $25.00 Amazon Gift Cards.
Also, the Grand Prize winner's description will be used on the Amazon book page for "Happy Every Day" with full credit. I will also post the description here on Positive Writer with a link back to the author's blog.
Reviews might be the most important aspect of an Amazon book page, but equally vital to a book's success is the book description.
This is what I'm looking for in your book description:
Does it compel me to purchase the book?
Would I be excited to read the book?
What's in it for me?
Did the headline have the WOW X-factor? The first sentence, or the headline, is the most important line and is essential to capturing the reader's attention. Clearly define what the book is about in that sentence.
Does the description give me a good idea of what I'll find in the book? Try not to use bullets, instead create exciting little one or two sentence blurbs about the content that flow from one to the next.
What makes this book unique and why should I choose it over another similar book?
Consider these top 3 questions for a compelling book description:
Why should readers care about the book?
Who is the book intended for or who should read it?
What makes the book special, unique and an absolute must-read?
Read top selling book descriptions and addressing the above questions will help you write an awesome, winning description.
Your description should be approximately 400 words. (There was a correctly here, as Amazon only allows about 480 words.)
How to enter:
To enter this contest you will need to post your description in a blog post so having a blog is essential. Once it is posted to your blog, return here and post the link in the comments. Please do not send to me via email.
Since several judges will be involved, it's easier to find links in the comment section and read the entries on blogs. I don't want the risk of losing descriptions via email, or having them end up in spam folders. Keeping track of so many emails can get out of hand and I don't want any entries slipping through the cracks.
The book description contest will end November 15th 2013 and the winner will be announced shortly thereafter via a blog post, so be sure you are subscribed to Positive Writer.
Excerpt On An Image Contest
For A Kindle E-ink
To enter this contest you need a picture that you are authorized to modify and share. You must hold the rights for the photo you choose.
You can either purchase a picture from a Stock Photo website, use a creative commons photo with the needed rights, or use a photo that you hold absolute copyright to (such as a photo you took with your camera).
The winning entry will be the one judged as best looking, easiest to read, and most interesting. The prize will be a Kindle E-ink (or the Amazon Gift Card equivalent). In addition, all the images will be added to a Pinterest board for "Happy Every Day."
How to enter:
Choose a favorite excerpt from the book and put it on the picture. Upload the image to Pinterest and enter the contest by linking to the Pinterest page in the comments below. If you are not on Pinterest, you may use your image in a blog post and link to the post in the comments.
Include the words, "By Bryan Hutchinson," on the image as well as the title "Happy Every Day—Simple, Effective Ways to Better Days." Please do not use the quotes in the book from other authors, only use from the main content written by me.
See the image below for a visual idea.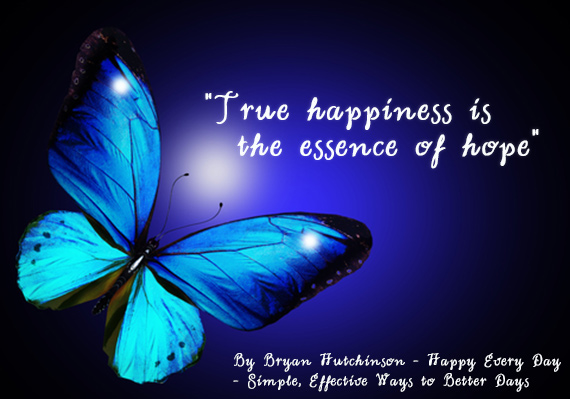 I recommend 500 by 500 px, but will accept any size you're able to post to Pinterest. If you decide to create something elaborate like an infographic, it would need to be larger.
Use your imagination as freely as you want when creating your image, just make sure you have 1) a short excerpt, even if only one sentence, 2) my name and, 3) the title of the book on the image.
You can enter this contest as many times as you like with as many images as you want. The excerpt on an image contest ends December 1st 2013. I will notify the winner shortly thereafter via a blog post.
As entries are coming in I have created a Pinterest Board to collect all the images. Check them out! And enter yours!
Before we get to the last one I want to thank you for taking part.
I know you love drawings and writing contests, and I love creating them! The key to continue creating these fun events is getting the word out. I'd like to ask you to take a moment to tweet one of these, or create your own tweet or FB share (it only takes a couple seconds, promise).
Write A Book Review To Win A Kindle Paperwhite (tweet)
Book Description Writing Contest For A Kindle Fire (tweet)
Excerpt On An Image Contest For A Kindle E-ink (tweet)
Blog Post Drawing For A $50.00 Amazon Gift Card (tweet)
Blog Post Drawing
For A $50.00 Amazon Gift Card
If you enter the Description or Excerpt On An Image Contests (by way of posting on your blog), then you will be automatically entered into this drawing.
This drawing is easy to enter by posting something about "Happy Every Day" and linking to the book's page on Amazon, then linking your blog post in the comments below.
Here are some ideas:
1) If you reviewed my book on Amazon, simply copy the review to your blog and publish it as a blog post.
2) Post an excerpt from the book, but no more than 150 words.
3) Post a video trailer for the book on your blog.
4) If you want, you can also send me interview questions in relation to the book. If you do this, use the contact page and limit your questions to 5 please.
Be as creative as you like. As long as you blog something about the book and link to the Amazon book's page, then you're in the drawing.
Don't forget to post your link in the comments! Your blog post must be entered to win by December 1st. The drawing will take place a few days after that and announced via a blog post.
Special thanks to Dana Sitar, author of A Writer's Bucket List for editing "Happy Every Day"!
You'll come back to it again and again for inspiration, insight, and that boost everyone needs once in a while.

~Dana Sitar
Have fun!
Above all, have fun with these contests. I hope you enter them all. Good luck!
Do me a favor and share this post on your social networks, email it to friends and, if you're really cool, how about blogging about it? Thanks! And, let me know what you think of the contests in the comments, and feel free to ask any questions you might have.
*Note: This contest is void in any countries where prohibited.  Entering the Description, and Excerpt On An Image Contests, you are agreeing to transfer all rights of your entries to me, Bryan Hutchinson. The Prizes and Amazon Gift Card equivalents are for the respective entry level editions of the Kindle Paperwhite, Kindle Fire and Kindle E-Ink.