You don't have to be a superhero to be good enough!
Good Enough is a special kind of that has become somewhat of a viral phenomenon.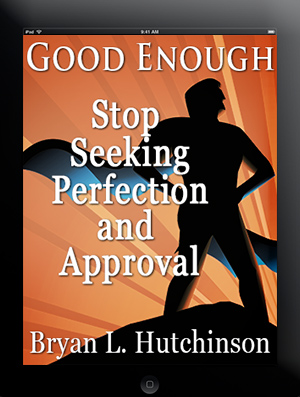 I had no idea it would become so popular. Especially since I thought it was far from perfect, but if I had waited until it was "perfect" it would never have been published!
Kind of ironic, really.
It's about overcoming doubt, starting and creating even if you have not reached perfection yet, to stop waiting for someone's approval to do what you want or need to do.
It's about doing it, whatever your 'it' is!
Good Enough was originally written for subscribers to another blog of mine, and the version I am offering here on Positive Writer is a slightly modified, improved version. It's still not perfect, though.
I hope you enjoy it and feel free to let me know.
To get your free copy, subscribe.
1) A confirmation email will be sent to you. 2) Click the verification link. 3) Follow the final step detailed in the email under the verification link, it's quick and easy.
What readers are saying about Good Enough:
Encouraging, inspiring and motivating! "Good Enough" gives us permission to stop striving for perfection and approval from others, while teaching us that we are already "good enough", leading to more productivity and personal satisfaction.

~Lauren Huss
 "Good Enough," is a book which will free those who feel they just don't measure up. With quotes, and words of encouragement, Bryan Hutchinson reaches through this eBook and tells you what you've always wanted to hear. That you can do it. You don't have to be perfect. You are "good enough." You'll want to pass this on to those who struggle with their self-esteem. You really will.

~Anne Gollias Peterson
"Good Enough" reminds us that we, and our efforts, are more than good enough.

Through his affirmations, Hutchinson tells us again and again that we have the strength and perseverance to accomplish all our goals and then some. The quotes he includes (from famous authors and entrepreneurs) inspire and uplift us, showing us that others have been where we are and have overcome doubts and obstacles to succeed in their respective fields. Finally, Hutchinson shares his own struggles and triumphs to make the journey personal and relatable.

"Good Enough" was more than good enough for me, and I believe it will be for you, as well.

~Staci Smith Troilo
 "Good Enough" is a wildly encouraging book written in an upbeat tone that convinces you to take a risk, pursue your passion, and have fun."

~Emily Buller
"Good Enough" is for anyone who struggles with self-doubt and feel they must constantly strive for perfection. Through the words of this book, Bryan Hutchinson teaches us that though we are not perfect, we are good enough. When we realize that being good enough is all we need to achieve our goals, we will stop saying "I can't" and begin saying, "I can."

~Joan Hall
Reading "Good Enough" is like having a personal trainer right at your side when you really need to hear the words, "Don't give up," he's there, reminding you, "You can do it."

~Marilyn Luinstra
For too long I've allowed perfection to be the excuse for not producing the book I've always wanted to write. Bryan's eBook exposes the dangers of seeking perfection, "There's a part of us that constantly seeks perfection and approval and if we do not take control of it, it will take control of us."

"Good Enough" pointed me to the truth that I should embrace doing my best instead of striving for my writing to be perfect. When I did, I found myself accomplishing more than I thought I could, and better than I ever imagined.

For anyone who has struggled with perfectionism, this is a must read. Kudos to Bryan Hutchinson for unveiling the truth: perfection is a myth!

~Maria I. Morgan
"Good Enough" is a visual treat to read. I love the creativity and the fresh approach which fits the theme of being free from perfectionism. The encouragement to write not to seek approval but simply to express your creativity sets me free.

~Sharon Rose Gibson
Feel free to share this page and "Good Enough" with others.
Bryan