It's a manual for writing, for how to write with more confidence and greater satisfaction.
Available on Kindle and in Paperback
Is something holding you back?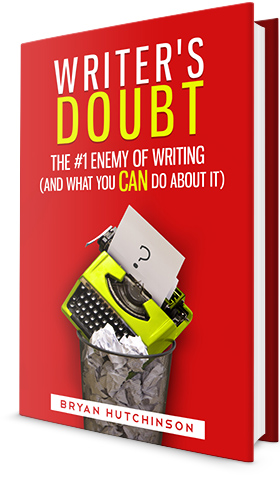 Have you ever felt you were meant for more as a writer, as an artist, and, as a person?
Don't let doubt, fear, or anyone other than yourself, decide whether you have a future as a writer.
Bryan Hutchinson was told by teachers he would never be a writer. As a child, he had to take a remedial reading and writing class because he could barely write a full sentence. One editor told him his book would never be published.
And yet Bryan is now a bestselling author whose books have been read by hundreds of thousands of people and praised by experts in the field.
All writers doubt their ability. But Bryan's story shows doubt and fear don't have to define your writing future. In this part-memoir, part kick-in-the-pants, Bryan will show you how to live out your passion, write a book, and become an author, no matter if the so-called "experts" tell you that you can't.
*Also includes bonus chapters filled with priceless tips every author needs to know on blogging, publishing, and marketing.
All writers doubt their ability, but doubt does NOT need to define your writing future. Click to Tweet

If you've ever suffered from Writer's Doubt—and if you haven't, don't call yourself a writer—you'll resonate with every paragraph. Here's your passport from doubt to writing success. Jump on this. (Click to Tweet)

—Jerry B. Jenkins
21 time New York Times bestselling novelist and biographer
~—~
Bryan Hutchinson delivers a work that will dispel any writer's doubt. Fledgling and mature writers alike will appreciate the reassuring, positive energy that surges through the pages of his words of advice about overcoming inhibitions and other struggles. Quick and easy to digest, it will aid any writer along the way. The author guides the reader like an experienced old friend through cautionary tales that will leave any reader with a hopeful outlook about their work.

—Warren Adler, author of The War of the Roses, the international bestselling novel and Boxoffice hit movie.
~—~
If you struggle like I do with self-doubt, then this book has good news for you: you just might be a writer. Like a good friend, Bryan guides you through the process of facing your inner demons, conquering the craft, and creating work that matters.

—Jeff Goins, author, The Art of Work
~—~
Writer's Doubt is–without a doubt–one of the best books on writing I've ever read. I've read dozens of books all about honing my craft, but none quite so unique as this one. This book not only encouraged me to keep doing what I love, but inspired me to reach above and beyond. Once you've read Writer's Doubt, you'll realize that the sky's not the limit. It's only the beginning.

—Kate Foley TMV, is an avid blogger and writer, and a contributor to the "Fauxpocalypse" anthology.
~—~
With his trademark humility and honesty, Hutchinson has offered another round of encouragement for writers struggling in the trenches. He puts forth a round of solid advice on ditching the negativity that too often surrounds the writing life and moving forward to embrace the blessings of living a creative lifestyle. His thoughts are solid, practical, and always encouraging.

—K.M. Weiland, author, Structuring Your Novel: Essential Keys for Writing an Outstanding Story and Outlining Your Novel: Map Your Way to Success
~—~
I've been a writer for a while, so I didn't expect to learn anything new about writing from this book. But Writer's Doubt showed me the fear still holding me and my writing back from its full potential. Today, I feel free to take risk in a way I wasn't yesterday.

—Joe Bunting, bestselling author of Let's Write a Short Story! and Founder of The Write Practice