Despite the numerous benefits social media affords writers, you've probably thrown up your hands a time or two, vowing to close your accounts and hibernate.
After all, it's impossible to keep up with the ever-evolving stream of articles, photos, and conversations that exist on Twitter every day. And that's just one social media account! Add Pinterest, Google+, Facebook, or other tools to the fold, and our time and attention are easily strained. Don't give up…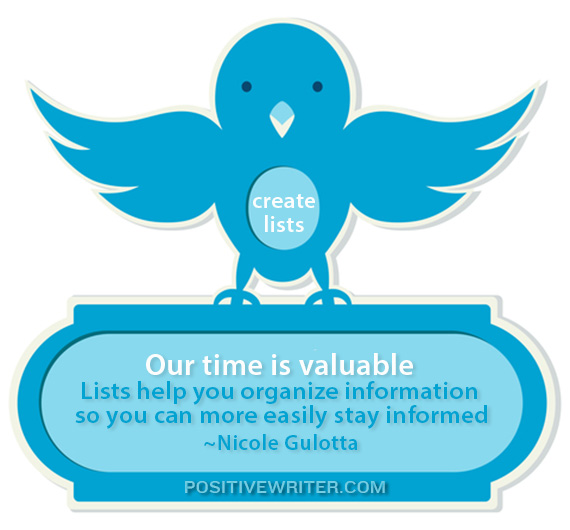 Before you decide to give up, it's helpful to remember the true purpose of social media: to build relationships.
Twitter, like other services, should be a welcome addition to our toolkit and a means to accomplish this, and if you've never set up Twitter lists to help with these efforts, you're doing yourself a disservice.
The tips below will reveal why Twitter lists can make your writing day more productive and expand your network.
4 Ways Twitter Lists Can Help You
Like your shopping list that keeps you organized in the grocery store, Twitter lists serve the same function in the social media space. Lists help you organize people, organizations, and topics by category within Twitter to help you engage in a more targeted way.
It's unrealistic to constantly follow your Twitter stream throughout the day.
Even if you have that kind of time (and if you do, you should probably stop procrastinating and start writing!), lists will ensure the time you do spend on Twitter is more productive. Here are four ways Twitter lists can help you.
1. Maximize your time.
Our time is valuable. Lists help you organize information so you can more easily stay informed on topics in the writing world and manage relationships. Creating lists means you'll spend less time filtering through a never-ending stream, and more time gleaning content from the people that matter most.
2. Find what you're looking for.
Let's say you put the finishing touches on a few short stories you'd like to send out. By checking your list of literary magazines, you can see if any contests are running, or tweet the journal directly asking questions about the submission period. Interested in contacting a fellow writer about a possible interview for your blog? Check your Favorite Writers list.
3. Boost engagement.
A constantly shifting Twitter stream can be overwhelming. By taking time each day to check one or two of your lists, you can click on relevant links and respond more readily. Also, by seeing the same folks in your stream on a more consistent basis, you'll be able to better engage by replying to their tweets, asking questions, and starting conversations.
4. Show your appreciation.
Lists extend your reach into the large expanse of Twitter in a very personalized way. When you list someone, Twitter sends a notification that they've been added to your list. This conveys that you appreciate their tweets and value their content. They might even decide to add you to a list of their own!
If they thank you publicly on Twitter, use the opportunity to start a conversation about writing. The same rules go for someone who adds you. If you receive a notification, thank them with a tweet. What begins as a way to organize your social media life can sometimes be the start of relationship-building.
4 Steps to Setting Up Lists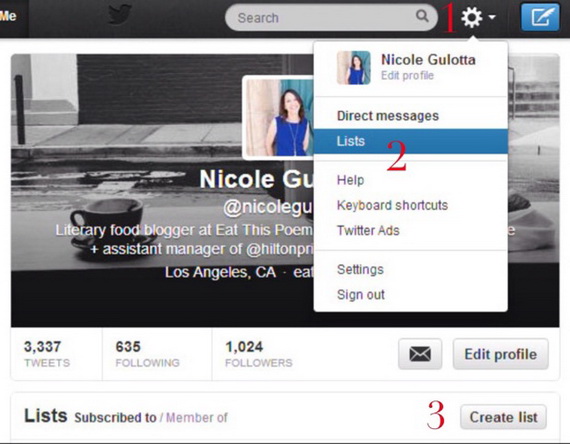 1. Login to your Twitter account. In the top right hand corner, click on the settings icon next to the search bar.
2. A list of options should appear underneath your picture and handle. Choose "lists."
3. When the screen loads, you'll see a button that says "Create List." Click it.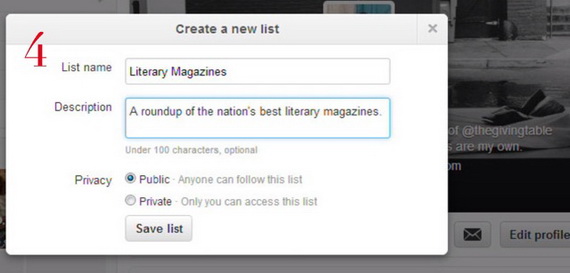 4. When the pop-up window appears, write a title for your list, add a description, and choose whether or not to make your list public.
If you already have a large list of people you're following, populating your lists will take time up front, so set aside an hour or two for this project.
Moving forward, whenever you follow someone new on Twitter, add them to one of your lists at the same time.
Overwhelmed?
At the bare minimum, consider following other people's lists instead. This approach will expose you to interesting content and help you expand your own network. If you're looking for some good lists to follow, WiseInk has a handy guide.
8 Twitter Lists Every Writer Should Make
Don't feel pressured to create all eight lists. Instead, pick and choose depending on where you're at with your writing.
If your book is set to be published and you're planning a reading tour, you might be very interested in the Bookstores category. If you're looking for a home for your work, you might need the Literary Magazines list.
Also, feel free to combine lists, like putting Agents and Publishers together, or including the two Favorite Writers categories together.
1. Literary Magazines
2. Agents
3. Publishers
4. Favorite Writers (your own genre)
5. Favorite Writers (different genre)
6. Writing Inspiration (For daily quotes, writing prompts, and other inspiration, try The Write Practice, Brain Pickings, Goins Writer, LiterBug, and Write to Done.)
7. Writing News (Stay up to date on the industry by following organizations like Poets & Writers Magazine, Writer's Digest, and New Pages.)
8. Bookstores
When used strategically, Twitter can become a partner in your writing career by exposing you to valuable content and interesting people.
Over time, you'll find that conversations started in the social media space can develop into long-lasting professional relationships and friendships, so don't view Twitter as something you have to keep up with, but as a networking tool with the capacity to be as authentic as you make it.
If you're brand new to lists and have questions, or have used lists successfully in the past, please share your experiences in the comments!
This is Nicole's second post on Positive Writer, you can read her
first here
. Nicole will be a regular contributor on Positive Writer. Let her know what you think of her writing in the comments.