Are you in the market for a book cover design? If you are, this post could save you time, frustration, and MONEY!
My new book "Happy Every Day" (coming soon) was designed by the wonderful, easy to work with Ana at books-design.com. I love the final product, but to get it I had to pay more than the original quote.
Next time I won't make the same mistakes and I will hire Ana again…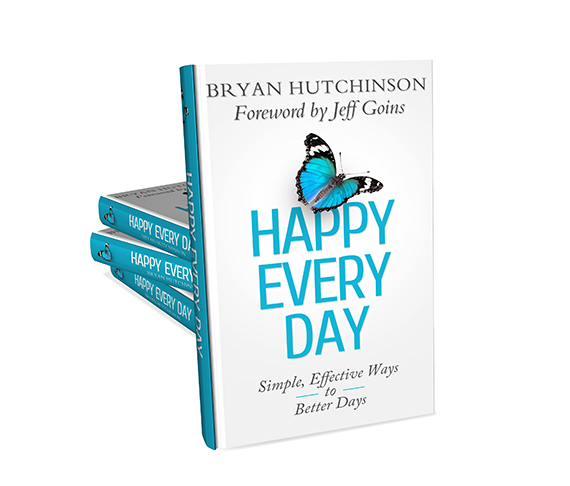 Book cover design makes a difference
A professionally designed book cover makes a difference, and according to Amazon it makes a big difference. When I uploaded my last book on Amazon there was a "warning" that book covers are important because readers do judge a book by its cover.
So if you're not a designer and are thinking of doing it yourself or somehow getting one for free or very cheap, you might want to reconsider.
A professional designer's expertise can mean the difference between selling lots of books and not selling very many.
Save up if you have to!
It can be expensive, but with research and a little scrutiny, you can get an affordable, professional book cover that stands out and makes a statement.
Who to hire?
This is one of the most difficult decisions to make and everyone has different factors that play a role in their choice. Here are three to consider:
1) Hire someone who has a proven track record. This could mean: a) Visiting several different designers and comparing their portfolios or b) Hiring a designer who created a cover that impressed you (maybe you saw it on Amazon or it was a cover of a fellow writer's book).
2) Testimonials. I recommend sending inquiries to authors who had book covers designed by the designer you are considering. Visit the designer's portfolio, get a couple author names, visit their websites and send inquiries. Who doesn't want to talk about their book? You'll want to know if the designer is easy to work with, open to ideas, reliable (responsive and meets deadlines) and are the authors happy with the services rendered and final product?
3) Is the designer's website professionally designed? If the website doesn't look professional then how can you trust that the book covers will?
The website should detail in an easy to read manner what all is included in the design, what factors could increase costs during the project and what type of files you will receive at completion. (.PSD, .EPS, .PDF, .JPG. etc.) Is a 3d cover included for display on your website? Also available on the site should be a portfolio of completed projects. It always makes me cautious when there is only one or two book covers in the portfolio.
Have an idea
I know what you are thinking: If you wrote the book then of course you have an idea.
The reality is it is difficult to come up with a simple idea for a book cover that conveys the meaning of your book as a whole.
Most of us want too much information on the cover and as a result the cover turns out too busy and confusing. You might "get it" but readers could be turned off by the complexity. Trust me, I know, so…
Keep. It. Simple.
Many book cover designers charge by the "concept" – meaning if you don't have an idea and simply ask the designer to send you concepts, you're going to pay for each one (or however many are included in your package) and it is possible that none of them will meet your needs.
That means you'll pay for more concepts, significantly increasing the price of your cover. I learned this lesson the hard and costly way.
Remember, time is money and a designer's time, like yours, is valuable. So with that in mind, here are some tips:
a) Ask people you trust to read your book, and then brainstorm with them on ideas for what would make a compelling cover.
b) Search bookstores for similar type books and find out what type of colors and images are typically used for your genre. Keep in mind that although you want to avoid cliché, most people expect certain types of books to look a certain way. So if you make your book cover look out of its genre readers just browsing might pass it over.
c) Write down the most important points that you want your cover to convey. Cross out the ones that are vague, then the ones that aren't critical to conveying the book's message and eventually get the list down to one or two.
d) Make a list of what text will go on your cover. Keep this to a minimum because more text means the smaller the font sizes and the harder it will be to read as a small image.
This is what is on "Happy Every Day":
Bryan Hutchinson 
Foreword by Jeff Goins 
Happy Every Day
Simple, Effective Ways to Better Days
All of the text is legible at small sizes (see image).
e) Finally, sketch your idea out on paper and scan it, or cut and paste pictures into a program like Power Point to give your idea an image to send to the designer. Don't worry about copyrights in your concept design, the designer will be able to get licensed images, but make sure this is part of the deal because some designers require you to purchase your own stock images from a site like dreamstime.com.
By having a visual idea ready you can save time and money by sending the designer your makeshift concept. Don't worry; good designers can turn even the most haphazard looking design ideas into works of art!
Your job is to have the idea and her job is to make it a book cover.
*Why a butterfly? The butterfly has different meanings to different people, and yet, to nearly everyone the butterfly represents the universal meaning of change and self-improvement, and that's what my book is about.
The blue butterfly is a single image with significant meaning that resonates with people because they already associate it with what I want to convey.
The right picture for your cover does more work than all the description text you could ever hope to squeeze on it.
Be aware of revisions
Once you have a concept graphic created by the designer, you'll be allowed revisions. Some designers allow unlimited revisions, but others only allow a certain number before charging you for any additional.
Read the fine print. Don't gloss over it like I did. You may end up paying for this oversight. Again, designers need to eat, too.
Critical for Kindle covers
If your book will only be available on Kindle or in digital format you want a cover designed specifically for that purpose.
Many books designed for hardback or paperback have unreadable text at small sizes when displayed online. In my experience many designers still design digital only covers as they would a print edition, so be sure to test any concepts at small sizes to make sure all text remains readable.
Last, but not least, make sure when your cover is finally displayed on your website that it is not distorted (blurry or grainy etc). When reducing the size of an image it can become pixelated, and you can avoid this by asking the designer to send you specific sizes for your needs.
The bottom line
Have an idea.
Hire a designer you believe will do the best job and has a proven record.
Carefully read what the designer offers in his or her packages. Hopefully you'll make your decisions accordingly, avoid extra charges and save money.
The tips I shared with you in this post are lessons I learned that I believe will save you money, but there's a lot more that goes into cover design and my advice is to educate yourself as much as possible before hiring someone.
I am very happy with with my new cover. Let me know if you like it, too. Special thanks to Ana, she did a fabulous job (once I figured out what I wanted)!
Have you hired a book cover designer? Share your tips and lessons learned in the comments.

Click here to see how Happy Every Day looks on Amazon.