If you're waiting for the universe to provide for you, I've got a feeling you're going to wait a long time. If you know what you want then my advice is to confidently take the necessary steps and go get it.
Disclaimer: This post is about me and what I learned in over the last year. It's not about you. Then again, maybe it could be – if you want it to be, but that's up to you…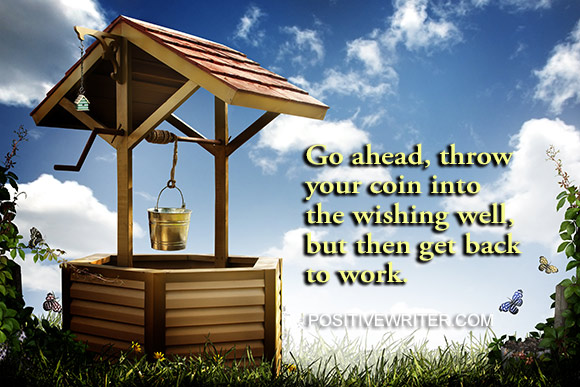 I'm a positive thinker and I believe you absolutely must have a positive, confident mindset to achieve your dreams.
However, positive thinking has gained a negative connotation over the last decade or two, because too many people have interpreted positive thinking as akin to wishing.
If you believe it, you can achieve it. If you think positively, the belief goes, good things will happen and everything you want will eventually come to you.
Yes, I believe that's true, but here's the deal breaker, it's not true if you do not take action.
Positive thinking without action leads to despair and desperation, and eventually negativity and doubt will take over because you'll have unintentionally proven to yourself that positivity doesn't work.
Positive thinking without deliberate action doesn't work.

(Tweet?)
Hope is powerful, but hope without action is not enough.
– What are you doing to accomplish your goals?
– What mistakes have you made and what did you learn from them?
– What detours did you take and how did you get back on the right path?
– Did you fail? If so, good. Try again. And if that doesn't work, try again and again, and, finally, again.
When you get hit, you've got to hit back with corrective action. You can't squat and wait. No, Bryan, you can't do that.
Positive thinking without action is not the beginning of the end. It is the end.
If you're waiting for someone else to do what needs to be done for you, well, then you're not waiting for much.
No one picks a person who rests on their laurels. Why? Because no one wants someone who isn't purposeful, who doesn't do what needs to be done when it needs to be done. And that goes for picking yourself as well.
You know it's true.
And, you know what? That's the way it should be, because if it weren't you'd never want what you want enough to learn how to overcome setbacks and thrive.
You've got to be confident and intentional.
Anything less is not enough. It's not. It never has been.
Inaction is worse than failure.

(You might want to tweet that.)
Doubt destroys. It's not worth it. Of course, a little fear is good. It's what motivates us to cross the street successfully, without getting hit by a buss.
Don't doubt yourself. It's not helpful. It's not productive. And besides, it doesn't look good on you.
Positive action, though, my friend, leads to confidence and eventually victory.
What about writing 500 words a day? Yes, you can do that.
Confidence, now that looks good on you.
Look at those straightened shoulders. You're so tall.
Look at that smile. It brightens the room.
Look at that walk of enthusiasm. You're radiating positive, can-do energy.
Everyone's watching now. Ah, you sure look good!
I love it when a plan comes together.

–  Hannibal Smith
If I learned anything in the last year, it's you've got to take action every day. Don't wait. Have confidence in your abilities, live with purpose and for heaven's sake, be intentional.
If you're a writer, write. If you're a painter, paint. If you're a designer, design. Whatever you do, do it every day. Do it good, bad and even ugly, but do it! Learn, modify, improve and take more action.
The more action you take, the less you will doubt yourself and your abilities. The more action you take the more you will get done. And the more projects that you complete the more positive you'll become.
You don't know what you're capable of doing, until you do it.
Positive thinking is about taking deliberate action and not merely making wishes. (Go ahead, throw your coin into the wishing well, but then get back to work.)
HAPPY NEW YEAR!
I'd love to know what you learned over the course of the last year. Share in the comments.