Note: This is a guest post by Bryan Collins. He is a writing coach on a mission to teach people how to write. He's put together a free 20-part email course for writers and a Beginner's Guide to Twitter that will save you time. Get both now on Become a Writer Today.
Writers use Twitter to engage with their readers, to promote their content and to talk to other writers. In this post I present to you six time-saving secrets that will help you get started on Twitter today!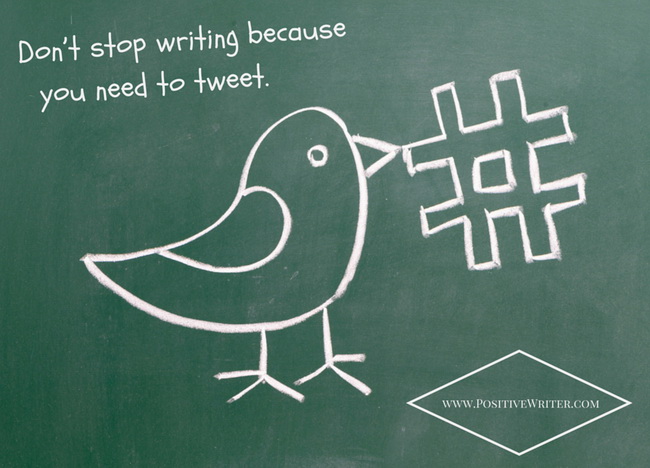 6 Twitter Secrets For Writers
1. Create a bio like Neil Gaiman
Your bio should be easy to read, explain what you do, and how you can help readers.
Avoid writing a bio that reads like a sales pitch. A little bit of colour or humour goes a long way. For example, Neil Gaiman's reads "will eventually grow up and get a real job."
Even if you're as famous as Neil, include a clickable link to your website, book or platform, and a professional looking headshot and cover image.
Your book cover makes a good cover image or you can source a suitable picture on Creative Commons Image Search.
Canva also provide free templates that writers can use to create a Twitter cover image (or even a book cover).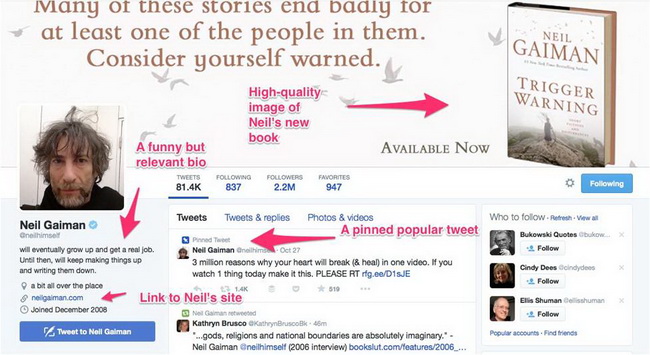 2. Write tweets less than 100 characters long
A tweet can only be 140 characters in length. Traditionally, it wasn't possible to add comments to other people's tweets if they were 140 characters long.
However, Twitter recently rolled out a new feature that lets you comment on your retweets. That said, shorter tweets (i.e. less than 100 characters) get more engagement.
*You can also pin your favourite updates to the top of your profile for more people to see by clicking on the three dots at the bottom of the tweet.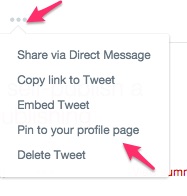 3. Share like a social media pro
Last year, I surveyed 15 writers and other social media experts, and I asked them how to write a good tweet.
They recommended retweeting other people's content, replying to those with larger followings, sharing articles you think your followers will like, and occasionally talk about your book.
The 4-1-1 rule is a good ratio for writers too. This breaks down into:
Four tweets of other people's content that you like
One promotional tweet e.g. your blog post or
One retweet
In short, go easy on the self-promotion and don't overthink it.
4. Don't stop writing because you need to use Twitter
The average lifespan of a tweet is five minutes. If you only tweet once a day, there's little point in using Twitter.
Please don't stop writing because you need to tweet.

Don't stop writing because you need to tweet. (Click to Tweet)
Instead, use a social media automation tool like Buffer to write your tweets for the entire week in advance.
I also like Buffer because it includes a useful plugin for web-browsers.
During the week, when I read an interesting blog post, I can press a button on my browser and this article is automatically added to my queue and shared on Twitter at a time that suits me.
Buffer costs USD 10 a month, but the free version will meet your needs until you develop a more established social media presence.
5. Use these hashtags for writers
Hashtags help more people see your tweets as people use them to follow conversations.
Here are 10 great hashtags for writers to get you started:
#AmWriting
#WriteTip
#AmEditing
#SelfPublishing
#GreatReads
#GetPublished
#AskEditor
#WriteGoal
#WriteMotivation
#WritersLIfe
#BookMarketing
You can find a much longer list of relevant Twitter hashtags for writers on Aerogramme Writer's Studio.
If you're writing a tweet pick one or two of these hashtags and add them to end of your tweets; this way, you can increase the visibility of what you're saying even if you don't have a lot of followers. And remember, #dontgohashtagcrazy.
6. Save time with Twitter lists
Twitter lists are great for filtering through the wheat and chaff in your stream. You can set them up by clicking on your profile photo, and make them public or private.
You can  keep public and private lists of:
Writers on Twitter
Editors you want to develop relationships with
Readers
Friends
Thought leaders
Magazines and publications
People who retweet you
People who buy your books or share your posts
The Perfect Social Media Network for Writers
Twitter is as much about conversations and relationship building as it is about promoting your book and telling people about your writing.
Like many writers, I've used Twitter to talk to readers, to request interviews as part of my research, and to develop relationships with thought leaders.
It's hard to go wrong using Twitter, thousands of writers use it and, unlike other social media networks, it'll help you practice the art of #concisewriting.
Do you have questions about getting started on Twitter and using it to promote your writing?
Please let me know in the comments section below.