I love quotes about writing. I hope you do, too. If you do, I'd love to know what your favorite quote about the craft is – how about sharing it with us?
With that in mind, I asked fellow bloggers for their favorite quotes, and, oh boy, what a response!
Below you'll find some of the best quotes about writing ever.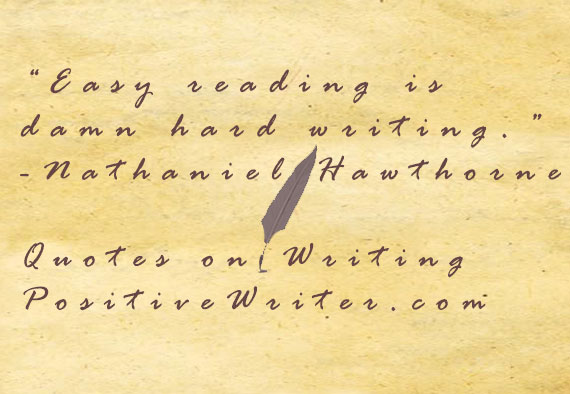 Below each quote is the name and blog link to the blogger who provided the quote. Special thanks to everyone who provided a quote. I added click-to-tweet to most quotes, but some were too long to be tweetable.
Get your facts first then you may distort them as you please. (Tweet Quote)

~Mark Twain
– Provided by Devani Anjali @ DevaniAnjali.com
The first draft of anything is shit. (Tweet Quote)

~Ernest Hemingway
– Provided by Vincent Nguyen @ selfstairway.com
Too many of us are not living our dreams because we are living our fears. (Tweet Quote)

~Les Brown
– Provided by Pamela Fernuik Hodges @ ipaintiwrite.com
No man who bothers about originality will ever be original: whereas if you simply try to tell the truth (without caring twopence how often it has been told before) you will, nine times out of ten, become original without ever having noticed it.

~CS Lewis.
– Provided by Kathleen Caron @ kathleencaron.com
Writing a book is like telling a joke and having to wait 2 years to know whether or not it was funny. (Tweet Quote)

~Alain de Botton
– Provided by Mike Loomis @ MikeLoomis.co
Everybody walks past a thousand story ideas every day. The good writers are the ones who see five or six of them. Most people don't see any.

~Orson Scott
– Provided by Joan Hall @ joanhallwrites.com
If you don't have time to read, you don't have the time (or the tools) to write. Simple as that. (Tweet Quote)

~Stephen King
– Provided by Stacy Claflin @ stacyclaflin.com
You don't have to say everything to say something. (Tweet Quote)

~Beth Moore
– Provided by Tamara Peters @ tamarapeters.ca
We are all apprentices in a craft where no one ever becomes a master. (Tweet Quote)

~Ernest Hemingway
– Provided by Chris Morris @ chrismorriswrites.com
If the writing is honest it cannot be separated from the man who wrote it. (Tweet Quote)

~Tennessee Williams
– Provided by Christa Sterken @ christasterken.com
Anyone who imagines that all fruits ripen at the same time as the strawberries knows nothing about grapes. (Tweet Quote)

~Paracelsus
– Provided by Renee Baude @ reneebaude.com
Always dream and shoot higher than you know you can do…Try to be better than yourself. (Tweet Quote)

~John Steinbeck
– Provided by Kath Unsworth @ kathunsworth.com
I am like a little pencil in God's hand. He does the writing. The pencil has nothing to do with it.

~Mother Teresa
– Provided by Joy Lenton @ wordsofjoy75.co.uk
Write something that's worth fighting over. Because that's how you change things. That's how you create art. (Tweet Quote)

~Jeff Goins
– Provided by James Prescott @ jamesprescott.co.uk
Oh that my words were now written! oh that they were printed in a book! That they were graven with an iron pen and lead in the rock for ever!

~Job 19
– Provided by Anastacia Maness @ rocksolidfamily.com
The great work must inevitably be obscure, except to the very few, to those who like the author himself are initiated into the mysteries. Communication then is secondary: it is perpetuation which is important. For this only one good reader is necessary.

~Henry Miller
– Provided by Stacey 'Buesing' Covell @ staceycovell.com
The writer is an explorer. Every step is an advance into a new land. (Tweet Quote)

~Ralph Waldo Emerson
– Provided by Shelley Dupont @ shelleydupont.com
Art is not about thinking something up. It is the opposite — getting something down. (Tweet Quote)

~Julia Cameron
– Provided by Eileen Muldowney @ eileenknowles.com
All writing comes by the grace of God. (Tweet Quote)

~Ralph Waldo Emerson
– Provided by Maria Morgan @ mariaimorgan.com
Know that the Creator lives and moves and breathes within you. So those dreams? Risk them. Those words? Write them. Those hopes? Believe them.

~Elora Nicole Ramirez
– Provided by Julie-Anne Mauno @ julieannemauno.com
Amateurs sit and wait for inspiration, the rest of us get up and go to work. (Tweet Quote)

~Stephen King
– Provided by Peter DeHaan @ http://peterdehaan.com
And the day came when the risk to remain tight in a bud was more painful than the risk it took to blossom. (Tweet Quote)

~Anaïs Nin
– Provided by Anne Gollias Peterson @ annepeterson.com
~~~~~
Thanks again to all the bloggers who provided quotes for this post.
Share your favorite quotes about the craft in the comments.