Note:

This is a guest post by Marcy McKay. She's the Amazon best-selling author of 'Pennies from Burger Heaven.' Follow her on

Facebook

.
Let's face it, questions constantly haunt us about our writing: Is my work any good? – Will others like it? – Will I find a literary agent or editor?
There are so many outcomes beyond our control, but all that stinkin'-thinkin' leads to…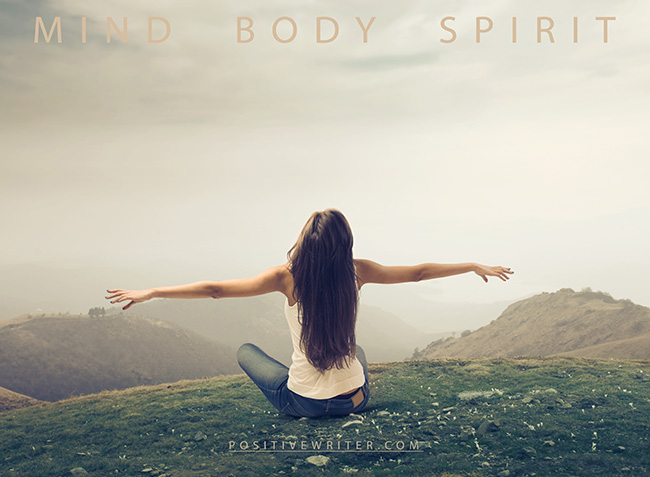 Self-Doubt
Positive Writer's own Bryan Hutchison has a great book on this very subject to help you: Writer's Doubt: How You Can Overcome Doubt and Create Work That Matters. For a mere $4.99 you can really examine your fears and move forward with your writing. (A cup of coffee can be more expensive.)
And in today's post let's continue to work on overcoming your self-doubt by addressing the 3 essentials that determine your writing success.
In order to succeed, writing requires your mind, body and spirit. If you're struggling to create, that may be your problem. You might just be using only 1/3 of yourself to write and it could be killing your craft.
Maybe you should give another area more attention to become a whole writer and more successful. Let's explore each of these a little closer.
1 – Mind
This tends to the inner part of ourselves. Try these suggestions to help your mind improve your writing:
Write – You'd think this is obvious, but I know countless people who want to write, talk about it, but don't do the work. It's simple. Writing is a habit. It takes practice. The more you write, the better you become. Every day is best, but do what you can.
Read – Writers write, but they also read. Fiction. Nonfiction. Read books in your genre, read for enjoyment, then if you really love the book, read it again as a student of the craft.
Pay attention to Your Thoughts – This isn't woo-woo nonsense. It works. Our actions follow our thoughts. The next time you're having a bad day, I'll bet you're having negative thoughts. Negative thoughts = negative actions. Positive thoughts = positive actions. Think you can't be a New York Times Best-Selling Author? You're right, you can't. Think you can? Now, you have a shot…
2 – Body
This tends to the outer part of ourselves. Try these suggestions to help your body improve your writing:
Get Enough Sleep – I mean 8 hours of continuous sleep. I failed with this years ago. When my kids were little (ages three and a newborn), I'd go to sleep every night by 9 pm (that was easy, I was exhausted). I dragged myself out of bed every day by 3 am and wrote until 6 or 7 am when my kids woke up. I did that for years. Bad idea. I would've accomplished so much more if I'd slept two more hours and wrote from 5 to 6/7 am. Strive for a bare minimum of 6 hours of consecutive sleep.
Eat Junk, Feel like Junk – If most of your meals come from to-go bags or cardboard boxes, then you're eating crap. Stay away from sugar, too (alcohol is sugar). Eat fresh vegetables, fruits and lean protein. Everything healthful you eat is brain fuel. Use it.
Exercise – Calm down, you don't have to get a gym membership, but think of all those hours you log in front of a computer? Take breaks every hour or so. Get up and move around. Even better, take a walk outside or move your body in some way daily.
3 – Spirit
This is our inner and outer parts combined and makes up the essence of YOU. Try these suggestions to help your spirit improve your writing:
Unplug – Technology is great, but it also kills our creativity. Just like your cell phone needs to recharge every day, so do our minds/bodies. At least once a week (more is even better), try to be "technology free" for at least five hours.
Get Still – Everyday, be still for 10 minutes, doing nothing. You don't have to pretzel your legs together or chant "ohhhhmmm," just sit or lie down somewhere comfortable. Your mind will wander. That's okay. Watch your thoughts like a movie. I do it in bed each morning when I wake up. It's a great way to start the day.
Surround Yourself With Positive People – Life is hard: financial struggles, divorce, addiction and illness. Still, try to be around people who believe in you and your dream. If you can't get away from the Nay-sayers, try to tune them out. Remember, you're above anyone trying to bring you down. (Go ahead, tweet that if you like.)
Bottom-line: Writers write.
We cannot control every outcome with our writing, but I've found when I actively focused on what I COULD control, my writing improved as well.
Good luck.
What steps should you take to improve your mind, body or spirit and strengthen your writing?
We'd love it if you share in the comments.