From Bryan:
Crowdfunding has become a hot topic of discussion for self-published authors and since I've received quite a few questions about crowdfunding, I asked Justine Schofield, the communications coordinator of 
Pubslush
 (a global crowdfunding platform only for books, where authors can raise funds and gauge initial market viability for their book projects), to guest post and tell us a little about it. Justine has agreed to also answer any questions you may have in the comments. Thank you, Justine! –
This is the first in a series of posts on crowdfunding I will host
.
You may be wondering: What is crowdfunding?
Crowdfunding has become a new go-to resource for artists, entrepreneurs and businesses that are seeking funding. It is a means to raise funds and mitigate the financial risk of their creative projects or business ventures.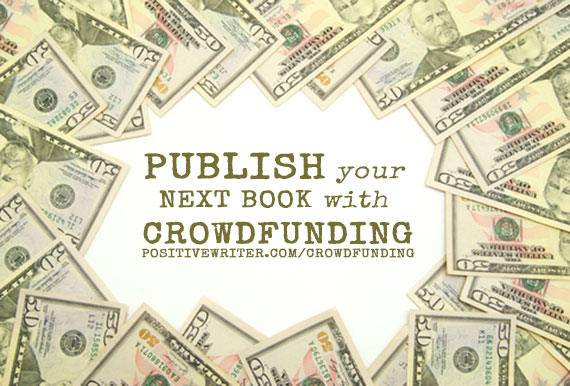 If you're a writer, you know how difficult it can be to navigate the publishing industry.
Of course, there's traditional publishing, and although this is still considered the more "prestigious" route, it's an extremely difficult industry to break into. Many writers turn to self-publishing as a means of bypassing traditional publishers and maintaining creative authority over their work.
The down side of self-publishing?
All the expenses of publishing now fall solely on the writer, creating a substantial personal financial risk.
Crowdfunding can help.
For authors who are hoping to self-publish, but who don't have the funds to do so, crowdfunding is a valuable resource. With the introduction of crowdfunding, self-publishing no longer has to be a solo venture.
You know all those times you bought Girl Scout cookies from the neighbor girl or dog-sat your co-workers golden retriever for weekend? Now it's time to return the favor.
Crowdfunding sites provide writers with the technology and platform to reach out to their personal and professional networks and ask them to financially back their publishing efforts. In exchange for their financial support, they will receive a reward, based on monetary levels that the writer develops before the launch of their campaign.
Crowdfunding is reminiscent of Shakespearean days, when the aristocrats funded the arts.
Only now the aristocrats are your family, friends, peers and audience. Not quite as prestigious, but you get the point. Also, supporters can choose to pledge any amount of money to your campaign, so asking for financial support can be guilt-free.
Even if a supporter only pledges $1, it demonstrates an interest in your book and can help you gauge your book's initial market viability.
Although the goal of a crowdfunding campaign is to raise funds, the number of supporters is also important because it can help determine if there is a market for your book.
Crowdfunding campaigns also help writers think critically about their book, such as:
Do you have an author platform?
What's your marketing strategy?
Who is your audience and where can you find them?
These are all questions a self-publishing author needs to know and now writers can realistically find out the answers before the actual publication of their book, minimizing the risk factor of self-publishing.
Social media is the first place to look to help find the answers to the questions above.
Authors should build their social media presence organically around their own voice and style. Books are secondary.
If you can make personal connections with people in your audience, their interest in your book will grow out of your relationship with them. Think of telemarketers calling—no one likes to be spammed, not even on Twitter, which is what relentless book promotion can feel like.
Making connections via social media can help you build your platform and find your audience, both necessities of book marketing, while raising funds for your book at the same time.
Crowdfunding ties into a lot of the groundwork self-publishing authors will have to do to publish successfully and it's a tool writers should definitely check out.
Although crowdfunding might not be for everyone, it's good to know your options.
In an industry that is continually evolving and expanding, authors need to know how they can publish most successfully and efficiently.
Writers should explore any and all options, as there are many out there, and make the decision that best suits them and their publishing goals.
Writers, do you have questions about crowdfunding or has anyone conducted a campaign of their own? Questions and comments are welcomed and appreciated!
Justine graduated from Emerson College in Boston, MA with a degree in Writing, Literature, and Publishing and is currently enrolled at Lesley University in Cambridge, MA, earning her MFA in Creative Writing. She specializes in social media and public relations, has held various freelance editing and writing jobs, and her work has been published in many online and print publications. – For more info about
 Pubslush,
go here
.