~This is a guest post by world renowned bestselling author, Jerry B. Jenkins. Jerry has written more than 185 books. He's had 21 New York Times bestsellers, including the Left Behind series, and has sold more than 70 million copies. He now teaches his advanced writing techniques to aspiring authors at JerryJenkins.com. Read his 5 most crucial tips for anyone who wants to write a book.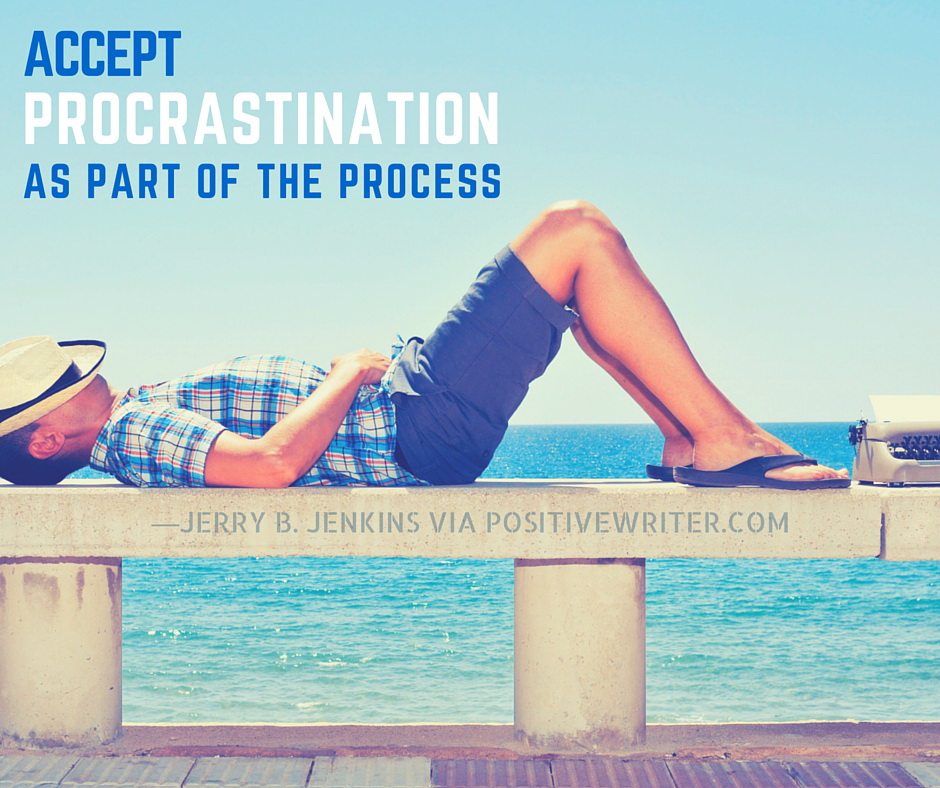 If you're like me, you've had trouble getting your rear end in that chair and writing.
Or if you do get there, the last thing you're doing is writing.
You don't have to tell me. I'm a professional procrastinator. I know all the excuses.
We shoo-in first ballot hall-of-fame postponement aficionados love to one-up each other, but before I list my bona fides in that arena, let me tell you what procrastination has wrought in my career:
● By the end of this calendar year I will deliver my 188th contracted manuscript to a traditional publisher—on deadline.
● I've had 21 titles reach The New York Times bestseller list, 7 of those debuting at #1.
● My books have sold more than 70 million copies.
Before I do the usual and tell you I say all that not to brag (hey, I write a lot of fiction), let me get back to how accomplished I am as a procrastinator:
● When I'm on deadline, I become the world's most obnoxious neatnick. How am I expected to write with a messy office, let alone a messy desk?
● Have the backs of all the cereal boxes been read? What about the prescription bottles?
● No, I don't use pencils any more, but in case I might, all 24 must be sharpened!
● I haven't been consistent with my physical training. I shouldn't even think about writing until after a vigorous workout.
● Better clean up my email inbox. Every bit of it. Yes, Aunt Mildred, that is an incredible international scandal, and coincidence, and likely a conspiracy.
● A quick peek at Twitter. A can't-miss moneymaking opportunity? I might never have to write again…
● And Facebook. I can't believe that puppy. And that kitty! Oh, no he didn't!
● The ugliest actor ever born? The ugliest two dozen? It won't take long to run through those.
● Yes, I am also interested in the largest sea monster to ever wash up on New Zealand's coast…
● The real mail must be here by now. And it must be close to lunch time.
Right now you're thinking, Hey, writer man, get to the 3 game-changing tips. Calm down, I'm helping you procrastinate.
In truth I used to agonize over such worthless empty days, then I'd lose sleep wondering how I'd ever get back on track.
What made the difference for me can do the same for you. Here's what I did:
1—I accepted procrastination as part of the process.
You might as well pencil it into your calendar, because it's going to happen anyway, and you'll find when you finally get to work that your subconscious has been toiling away, intuitively working on your story or even your nonfiction idea.
Many colleagues have confirmed this, so if you find it isn't true for you, you're probably in the wrong profession.
Accepted procrastination as part of the process. (Click to Tweet)
2—I committed to keeping my deadlines sacrosanct.
Admittedly, early on I saw enough success that I was soon writing under contract, so I had publisher-imposed deadlines. Those don't keep coming if you become known for missing them.
I learned that only about 1% of writers literally meet their deadlines, so I made that an iron-clad rule. Fool around and dance on the dangerous edge, but do whatever is necessary to transmit that manuscript when it's due.
Until you land such contracts, self-imposed deadlines can have the same effect.
3—I turned off my internal editor when writing my rough drafts.
Nothing will slow you more than trying to perfect your prose as you go. There's plenty of time to edit and rewrite tomorrow. Get that hunk of meat on the table today and do your carving tomorrow.
Okay, I promised three, but here's a bonus:
Spend a few dollars on Anti-Social. It's a simple app (15 bucks with a 60-day, money back guarantee https://anti-social.cc/ *No affiliation) that lets you turn off all your social media for as long as you choose each day. Let the competition read Aunt Mildred's mass forwards, peek at Twitter, and get lost in the Facebook maze.
That can be a lot of fun, but it's not what your day is about when you seriously long to be published. Let those trivial diversions be your reward for applying the three game-changing tips above, after keeping your rear end right where it belongs.
You'll never regret it.
How have you dealt with procrastination so far? Share with us in the comments.