One of the sad realities of our time is that thanks to movies, TV shows and yes, even books, we've come to expect success as something that will happen like a lightning bolt.
You work hard and create something incredible and CRACK – BOOM you hit the big time and everyone loves it, buys thousands upon thousands of copies, and you become rich, famous, and an all around badass success.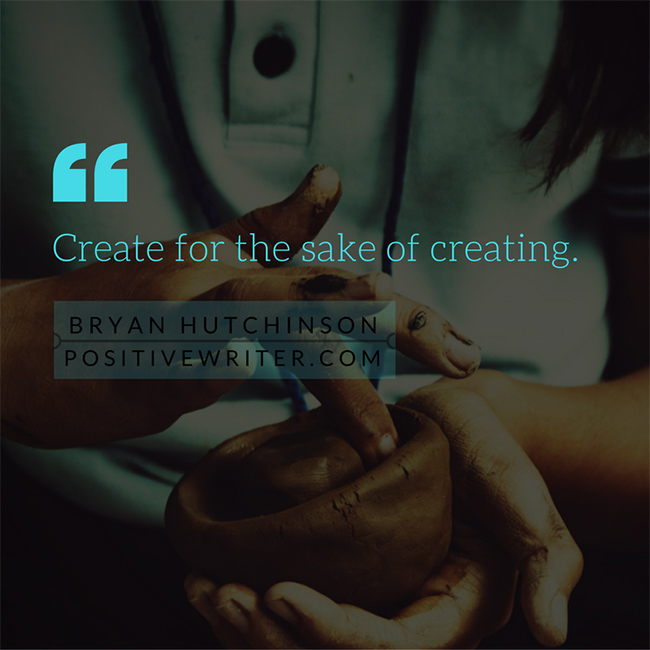 Unfortunately, the reality is somewhat different.
You work hard, you create something, it fails, you try again and more than likely you fail again and again and again and again and again and again… until shazam!
You get the picture.
The truth is you might never, ever find the success that's been advertised. You might never create something that makes you an overnight millionaire.
So you might wonder why you should keep trying.
You might wonder why you should keep creating.
I'm sure you wonder a lot of things.
Why aren't you lucky?
Why do others seem to create bars of gold and fill up audience halls every time they sneeze?
You might wonder where the fairness is.
You name it – you wonder it.
It's not merely about working hard or working harder, because you work your butt off and you know it!
Here's what I suggest:
Create because it's what you want to do. Create because it's what your heart tells you to do. Create because you love to create. Create because you can't live if you don't create. Create because it's what you do.
It's this modern, overwhelming pressure to create for social status, praise, and riches that has eroded our potential.
The number of followers you have, the money you've earned and the recognition you've received is not indicative of your creative magic.
So please stop putting a price tag on it. Stop demanding that your creations make you rich, attract an audience, or change your life.
Try this:
Create for the sake of creating. Period.
Social networking, creating blogs with tons of followers, and making the-big-time has filled too many of us with more dread than fulfillment.
The solution is simple. Return to the basics.
Just do it because you want to and not because anyone will Tweet it, Facebook it, or buy it.
If you create something others will pay for and share the world over, great! But what we seem to have forgotten is that such creations come from a magical place deep within us and are rarely planned and can never be forced.
Allow yourself to be inspired and let go.
Now go, create magic with your awesome self. Because you can.