It's that time again, fellow scribblers! It's time for another writing contest. Are you ready to win some awesome prizes? First place is worth over $1,000.00! It's super simple to enter.
The best prize packages on Positive Writer so far! Check them out and how to enter for free: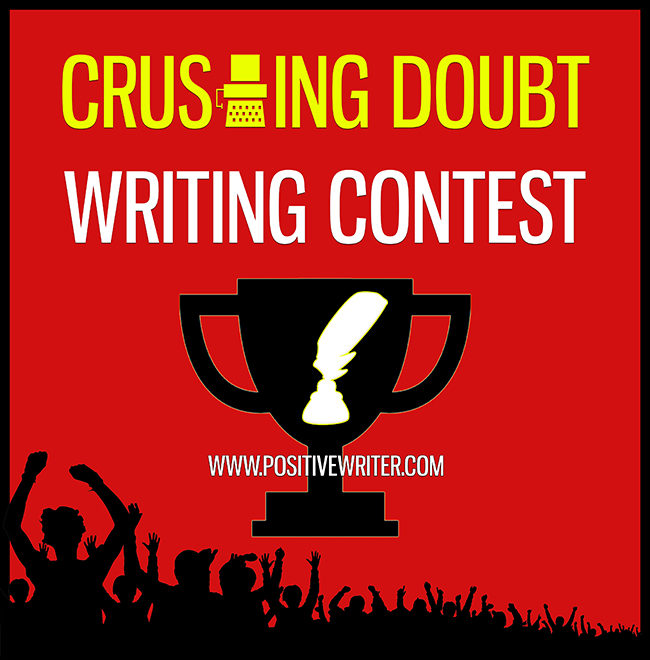 This latest writing contest is all about crushing doubt! In April (opening delayed until sometime in the summer due to surgery) I will be launching my new online course for writers, Writers Crushing Doubt, you can already view the introduction page here. This contest has been created to celebrate the launch of the new course, so check it out. (Tip: reading the introduction page will help, as it has subtle clues for writing your entry that will help you win this writing contest.)
It's easy to enter. All you have to do is write an essay (blog post) about an instance in your life when Writer's Doubt tried to stop you from writing and you found a way to overcome it and write anyway.
Share your story in an inspiring way. I'm not looking for technically perfect stories. I am looking for real stories that I believe will encourage others to face their doubts and reignite their passion for writing.
This contest ends 1 June 2016. There is no entry fee.
The prizes are:
1st Prize:
-> $95.00 Amazon gift card
->) Professional Book Cover Exclusive Design Package ($700.00 Value)
Courtesy of: Ana at Books-design.com (Be sure to check out Ana's portfolio via the link. Ana designed my cover for Writer's Doubt and the marketing materials, too. She also designed the image header for Positive Writer.)
The exclusive design package includes:
• 2 initial cover concepts/drafts
• Paperback and e-book cover designs
• Unlimited tweaks to their chosen concept
• Stock images from Depositphotos included
• Advanced photo manipulation
• Advanced image retouching
• Custom typography
• Inside title page
• Marketing and promotional materials (a set of 5 3D covers)
• Social media design elements: Facebook, Google+, Twitter headers.
The Book Cover Package will be available to the winner upon request for 5 years from the time of winning. So plenty of time to get that book of yours finished!
->) Full Scholarship for the Writers Crushing Doubt online course. ($249.00 Value)
2nd Prize:
->) $50.00 Amazon gift card
->) Full Scholarship for the Writers Crushing Doubt online course. ($249.00 Value)
3rd Prize:
 ->) $25.00 Amazon gift card
->) Full Scholarship for the Writers Crushing Doubt online course. ($249.00 Value)
– – – – – –
How to enter the contest:
1. Post your essay between 300 to 1000 words on your blog. (You need a blog. If you don't have one yet, it's easy to start one on WordPress, or even easier, on Medium.)
2. Consider leading in to your post with: "I am participating in the Writing Contest: Writers Crushing Doubt. Hosted by Positive Writer." You can phrase it as you like, but make sure there is a direct link back to this post to qualify.
3. Paste the link to your entry in the comments below.
It's very important that you put your link in the comments to this post because that's your official entry. One of my goals for these contests is for the comments to become a resource of links for fellow writers to find an awesome collection of inspirational stories about writing.
I will announce the winners via a blog post around the middle of June 2016. (The best way to stay updated is to subscribe.)
I will also publish all 3 of the winning posts individually as guest posts. (Great exposure for you.)
Most bloggers are looking for a fresh topic to write about, so here you go, and you just so happen to be able to enter it into a fun contest, too. Hey, and by sharing your story you might even help another writer.
Get ready, set, go!
If you like, you can help support this contest by sharing it with your writing groups, Facebook groups, and other social networks, including Twitter.
If you have any questions, please ask via the comments and I'll also answer in the comments in case others have the same question.
Whether you enter the contest or not (I hope you do!), and if you're ready to become the writer you're meant to be, check out my new online course, Writers Crushing Doubt.
WCD won't be open for registrations until the summer, but you can already see what it is all about. The writing course is my best work so far and will teach you everything I know about dealing with doubt and writing the best work you are capable of.
My intention with Writers Crushing Doubt is to help you become the writer you are meant to be, confident, published, and attracting an audience of adoring (fans) readers.
Remember, paste your link to your contest entry in the comments. I look forward to reading your entry.
Have fun!
NOTE about entries: If you enter an essay into this contest you agree to transfer all rights to the article for possible publication as a guest post, in compilations, ebooks and other means with full credit to you as the author, but not with financial compensation for the work (excluding any prize possibly won). This contest is void wherever prohibited by local laws.