Today I begin presenting the winners of the "How Writing Has Positively Influenced YOUR Life" writing contest with 3rd place, by Cole Nemeth. Thank you to everyone who participated in the contest. Over the following few days I will be posting all of the winning entries. Stay tuned, and help me congratulate Cole in the comments.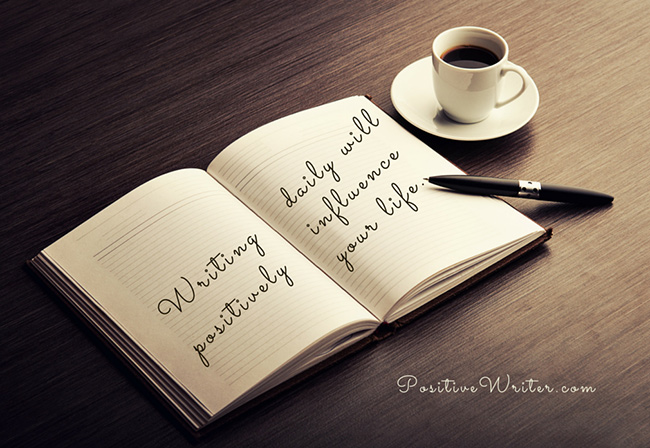 For as long as I can remember I have been writing daily and it has most definitely had a positive influence on my life.
As a child I would write in my journal, create short stories and poems, and write out my homework assignments.
As an adult, I continue to write in my journal every day, I still write short stories and poems now and then, and in college I wrote for hours, but my writing also includes blog posts, articles and never-ending to-do lists.
It doesn't matter what you write, just writing daily will positively influence your life.
Writing daily will positively influence your life. (Click to Tweet)
Clear Your Mind:
I've found that the best way to start a work day is to spend a few minutes freely writing any thoughts down, whether it's with pen and paper, or keyboard and screen. So dish it all out. Word-vomit all over the place. Because until you get your thoughts out and clear your mind, they're just going to keep coming up over and over again, distracting you from your work.
By writing out my jumbled thoughts, I find that it clears my mind and I can then work with ease and focus.
Goal Setting:
It's been said time and time again, writing down your goals makes it more likely to accomplish them. From my own experience, I know this to be true. So, every day, I write down in my journal what needs to be done. Sometimes it's just a daily to-do list, other times it's goals for the year, or the next five years. All of my hopes, dreams and goals get written down and that makes it easier for me to figure out what needs to be done to accomplish them.
Brainstorm:
With a clear mind, and a daily to-do list written down, I can also spend some time writing down ideas in a crazy, hectic brainstorm session. Pages of my journal are full of scribbled notes that look like nonsense to anyone else but me. But the thing is, it's just easier to brainstorm and come up with ideas when you have them written or typed out in front of you. One idea leads to another, and before you know it, you'll have dozens of ideas written down right in front of you.
Process Emotions and Events:
At the end of the day, if I'm struggling with something that happened, or an emotion that's left me feeling uncomfortable, I find it helps to write about it. The act of writing down troubling events and the emotions that come with them make it easier to process why it's so bothersome, and how to handle it. So many of my journals are filled with daily events and confused emotions that could only be resolved by writing it out.
Improve Skills:
Having good reading and writing skills is essential in any job. It's the one class we are all forced to take throughout our educational career, because without good communication skills, how are we going to get anything done? Writing daily will improve your reading and writing skills, no matter what level you're currently at.
So, whether you consider yourself to be a good writer or not, we should all spend at least a few minutes writing every day to reap the benefits.
Do you write daily? How has it influenced your life? Share with us in the comments.
~Cole Nemeth