Writers the world over have suffered through unbearable self-doubt and many have overcome it long enough to write words that matter. But some haven't. And some believe they never will. It doesn't have to be that way.
Does it?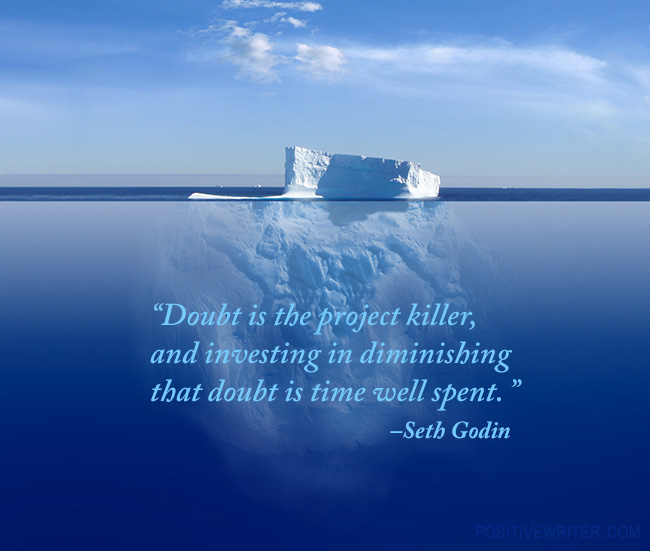 The Way
Too many writers have given in to doubt and have given up the dream of writing their story, and yet they too can overcome doubt to write words that matter.
The challenge of doubt isn't something you face just once or twice; it's a life long struggle. You can't just endure it and let it control your writing future. You must take control of it. If you want to be a writer who writes.
You must find the will and the way to diminish doubt.
We all want to put pen to paper and create, and each morning we wake up with the goal to do just that, but all too often we stop ourselves before we even start.
And unfortunately, if you're anything like I was, you're not sure what specifically you can do about it.
Ah, but I am sure if you think about it a little, you'll realize that's what makes our craft so special, because not just anyone can do it. Not just anyone can wield the power of the pen.
There's a lot more we can do about doubt than most of us realize.
You're a writer.
You were always meant to be a writer. You know that.
But that knowledge, that affirmation, that commitment, it's not always enough.
Is it?
The knowing…
It's helpful to know in your heart of hearts that you were always meant to write, but it's not always enough.
And worse, sometimes you wonder if it's true. So you ask yourself things like:
Was I truly meant to be a writer?
Am I lying to myself?
Is my heart of hearts being honest with me or just telling me what I want to believe?
And down you go. You spiral out of control.
It doesn't have to be that way. It doesn't.
Writer's Doubt
That's why I wrote Writer's Doubt.
But who am I to write a book about overcoming Writer's Doubt? I'm no Stephen King, Ernest Hemingway, or Seth Godin.
I'm no one famous. I've never been on the New York Times Bestseller list. And perhaps I never will be…
Just who the hell do I think I am?
That's doubt talking. It's so easy to fall into doubt's trap and believe our words don't matter.
Your. Words. Matter.
They do. Don't they? Of course. Right?
The Project Killer
A reader and good friend, Anne Peterson (author of Broken), recently sent me a quote by Seth Godin from one of his recent blog posts:
Doubt is the project killer, and investing in diminishing that doubt is time well spent.

–Seth Godin (Tweet This Quote)
Of course, Seth's post had absolutely nothing to do with my book. Anne sent me the quote because it reminded her of Writer's Doubt and she wanted to send a little extra validation my way. (Thank you, Anne. Everyone can use a little extra validation from time to time.)
Seth's words are an important reminder to all writers that we, as creatives, as artisans, as people, we must spend time diminishing our doubts. If we don't, doubt can and will stop us.
Doubt is the project killer.
Every writer needs to know this because too often we stop and blame everything else, from the weather to the position of the moon, even our muse, everything and anything except the real culprit.
And once identified, doubt can be overcome.
If you're so inclined, repeat after me:
I'm a writer. I write. – I start. I finish. And I ship.
That's what writers do.
(You can tweet that if you like.)
Make no mistake, writing is hard work and overcoming doubt, even diminishing it, is even harder work. It's a job that's never done. But it's worth it.
Any love affair is work and if you love your craft, then you've got what it takes.
You do.
Now go, get back to work and write words that matters. We need them.
How are you diminishing your doubts? Share in the comments.
PS: I'd love to hear about your latest project, how about telling us about it in the comments? And if you have a link to it, feel free to share that too.