Note: This is a guest post by Eduardo Yi, he is the lead content marketer at Teachable, a platform that allows everyone, from creative individuals to established organizations, to easily teach online and create profitable businesses.
Online learning, one of the biggest and fastest growing industries, is already estimated to be worth eight figures and counting.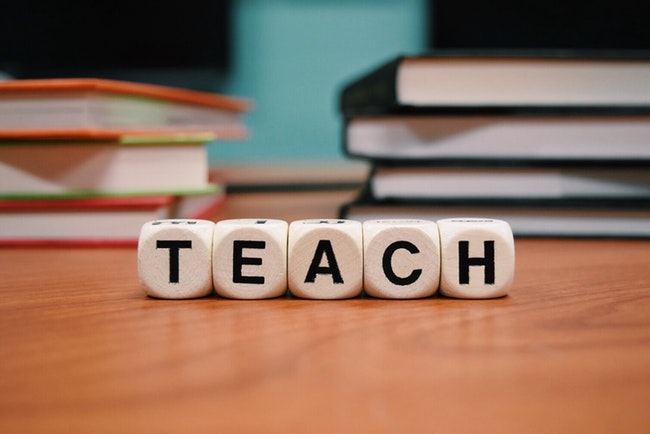 Individuals all around the world are making a living by teaching their skills to others online. If you've been in interested in pursuing writing as a career, you might have also considered teaching through online courses.
Being part of the online teaching ecosystem as both software provider and instructor has given me the privilege of witnessing thousands of success stories. In fact, our teachers have connected with over 3,000,000 students worldwide and made sales of over $50 million.
5 Reasons Writers Should Start Teaching An Online Course
In recent years, you might have noticed more and more writers starting online teaching courses. While the venture is very profitable, that's just the tip of the iceberg in terms of the benefits of teaching online.
Here are five major reasons to consider teaching online as a writer.
Online courses give you a high return on your investments
Apart from being easy to set up, online courses will return profits faster than even a blog or YouTube channel.
Many people are seeking to know what you know
Every individual has unique gifts that they should share with others, and while not all experts are good teachers, maybe you have the ability to eloquently impart your knowledge to others.
All the experience you've gathered is sure to be beneficial to someone else and your online course could impact somebody's life in a major way.
Risks associated with online business are low
Besides the initial finances needed to sustain you while you create your course, there are little to no overhead costs required to actually run the business. That means you can keep producing content while keeping costs low and profits high.
Proper investments of these profits will ensure you have a reliable source of income.
Online courses enable you to reach the masses
The phrase that the world is now a global village has never been more true than it is today. The internet has ensured that content can reach any part of the globe within seconds.
When you produce content for your online course, your knowledge and ideas can be distributed to many more people than if you were to offer in-person tutoring.
You'll be able to build your personal brand
The internet may seem like a big place but in fact the circles can be quite small.
When you become a master of course content generation and are very skilled in its delivery, word spreads like wildfire to aspiring writers and before you know it you're an esteemed guru in your field. People will brand you an authority figure in your niche and this will translate into profits for your business.
Now we know how having an online teaching course can be a great way of establishing a successful business as a writer, let's look at how you can start one.
7 Steps To Creating A Successful Online Business By Teaching Writing Online
Know your niche; where you are most proficient
Don't just jump straight onto your website and tutor on everything to do with writing. It won't work for two reasons. One, you'll never be able to cover everything. Two, chances are you'll be vague in your content because it's too generalized.
Take the time to do a market survey and look for more niche opportunities to exploit. This will take quite a bit of patience and hard work but the rewards will be worth the effort. It's simple, but not easy.
The best course of action is to narrow down and design a course that is specific to a particular kind of writer. Here are some questions to consider:
Is your aim to impart knowledge on a particular writing genre?
Is your course designed for writers at every level or will you have separate courses for different abilities?
What will the student have achieved by the time they've completed the course?
Remember, don't limit yourself on what you can teach. Aside from writing, you can also teach proofreading, editing, or even transcribing skills.
Decide how much you're looking to make from the business
Simply "making a profit" isn't a clear enough goal for your online course. You need to have a specific figure that you want to achieve. For instance, you could declare that you need the business to make $20,000 annually. You also need to decide whether you want to make it your primary source of income or a side-hustle.
The answers to those questions will dictate how much time, money, and effort you should dedicate to the venture.
Build an audience
Building an online audience is not as hard as it may seem. It will, however, require creativity and patience. The simplest and easiest way to do this is by giving away a valuable product entirely for free. Fortunately, skilled writers like you should have plenty of valuable knowledge to spare!
Once you've designed the content, which can be anything from a 'how to' list, to a mini-course, give it away to your target audience by asking to deliver it via email. This email list provides you with your first audience.
Put a price on your course
This is business after all; one of your core aims is to make a tidy profit. Many beginner tutors find themselves unable to put the correct value on the product they're providing.
Here's what you need to do.
First, design your product so that it looks and is incredibly valuable. Then charge top dollar for your package. You're imparting vital knowledge that cost you a lot of time and money to learn. Factor in your experience and you can see why you can't afford to be cheap.
Remember that while you might be costly, you still won't cost as much as a live instructor. It's a win-win situation for both parties.
Design your school platform and your sales page
Creating your online writing school is the most important part of your business. It's the platform where you'll interact with your clients; it represents you. You need to make sure it looks authoritative and professional, and is easy to use.
Make sure it's optimized for mobile devices as the bulk of your clientele are likely using their mobile devices when purchasing your course. The shopping cart should be straightforward too.
When developing the sales page, try using the following formula:
Start the page with an attention-grabbing headline and follow up with a subhead.
A tested and approved method is to include a small two-minute video that will build anticipation and excitement.
After the video, delve into the details of our course and what the learners should expect from your offering.
Add a few testimonials from people you've worked with in the past. This gives people proof that you're as good as your brand suggests.
Make sure that your course sounds like a must-have. Compare it with alternatives and show why yours is clearly the better option.
Leave the audience with a clear call to action.
Design the content
By now, you already know what kind of knowledge you want to pass on to your writing students. All that's left now is to create the actual content you'll teach online.
First, create an outline of the steps that will take our learner from novice to professional in your chosen topic. Then, for each step, you can create video, audio or written content to expand on each area.
Launch the Course
It's now time to open shop and go live. While there are various ways one can go about this, in my experience, the most effective strategy is as follows:
Build anticipation and excitement by teasing the course to your email list on the first day.
Answer questions regarding what the course is about and who it's meant for on day two.
Make your course available to students on day three.
Day four is for answering the questions that potential students might have about the course.
Throw in an exclusive bonus until midnight of day five.
Use day six to thank your email list for buying your course.
Prepare a logical argument that you will give on day seven citing why one should buy the course. Also, state that the window is closing on day eight.
On the final day, send out emails letting potential clients that you're closing your doors.
When you decide to teach online, you should be willing to sacrifice a lot in time and effort into building a personal online brand. It takes time to grow, but when it does, your hard work will be greatly rewarded.
If you were to start teaching online, what would you like to teach?
(PS: If how to get attention for your work online is causing you nausea, don't worry, Bryan is creating a new course on Teachable which will teach you how to get attention online like he did, it should be available in the December / January timeframe. Subscribe to Positive Writer to stay up to date on that and if you're ready to start teaching, join Teachable today!)