By Positive Writer contributor Frank McKinley.
Do you have a book inside you that needs to be shared with the world?
I know how you feel. You should write it and sell it, even if you don't have an audience yet…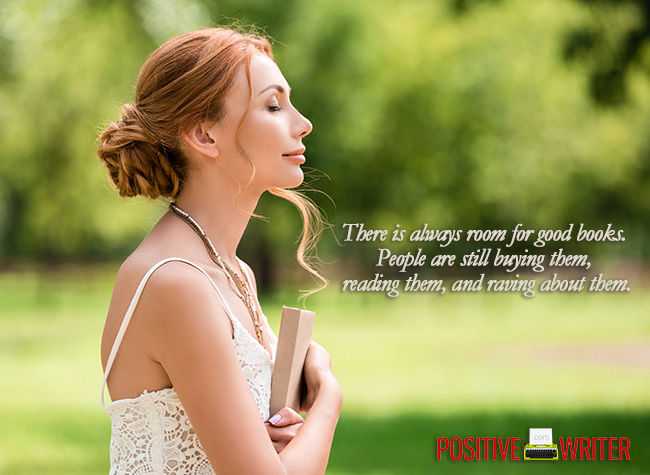 But I'm an Unknown Author
I started writing books 4 years ago.
It all started with a series of leadership articles I wrote for my client to give to his customers. As he read them, he told me time and again, "You need to make this into a book!"
I said, "You know. That's a great idea!"
After the third time he told me, I knew he meant it.
Isn't the Market Saturated?
The last time I checked there are almost 70 million books on Amazon.
That's enough to make you wonder whether anyone at all will see your book.
Sure, there's a lot of garbage uploaded to Amazon every day. After you read this, you won't be one of those authors who set themselves up to fail.
Trust me, there is always room for good books. People are still buying them, reading them, and raving about them.
Are you ready to join the club of bestselling authors?
Get your marketing hat on and let's get started!
Six Strategies That Virtually Guarantee Your Book Becomes an Amazon Bestseller
Most of what you read today declares you need an audience to sell a book.
As a tribe builder myself, I couldn't agree more. Having an audience will enhance every strategy you're about to learn.
But it's not essential to sell books.
I am proof of this. Before I got serious about building an audience, I sold over 25,000 eBooks.
That turns the latest conventional wisdom on its ear, doesn't it?
It doesn't matter if you've got an audience of 1 – or 1,000. These techniques will help you sell more books. I know, because they helped me!
1) Write an Awesome Book
What exactly is an awesome book?
An awesome book has 3 qualities:
It's clear
It's concise, and
It's conversational.
Clear. Good writing is easy to understand. Use stories, metaphors, and examples to explain what you mean.
Concise. A good pillow is fluffy, but not too much. Keep your writing tight. People don't have all day. And they won't wait forever for you to get to the point. Each sentence must make them want to read the next – or you've lost them.
Conversational. Have you ever fondly remembered a lecture? I don't think so. I doubt you curl up on the coach with a textbook. Besides, how many textbooks are bestsellers?
That takes care of style.
You also need good content.
Content is good when it answers the reader's question: "What in this book that I can't live without?"
It's not enough to just serve a need. You've got to discover what your reader wants, and give it to him.
2) Create a Cover That Demands Attention
When someone is shopping online for a book, they'll get a list to choose from.
Your cover is shown on a thumbnail.
If your potential customer is on a mobile device, that's pretty small.
So do this to make your cover stand out.
Make sure the title is easy to read.
Make it colorful and full of contrast.
Don't make it too complex.
If you use an image, make sure it supports the title.
You only get a second here. Make it count. Make that cover leap off the page and say, "I've got what you want right here. Don't pass me by if you want a better life."
3) Write Your Title Like a Headline
When you're in line at the grocery store, what part of the magazines catch your attention?
The headlines.
Pictures are great, but they're not everything. What gets you to turn the page and look inside is the promise the headline delivers.
Don't you want to know if the President had an affair with the maid?
Can you live without knowing if aliens are in your basement?
Will you eat that jar of peanut butter if you don't know if it's contaminated?
Sure, these are silly. But you get the picture. We want to know secrets. We want to know if what we suspect is true.
Does the title of your book promise to deliver what your readers crave more than food and money?
If it doesn't, tweak it until it does.
Here are some titles that have sold for decades:
How to Win Friends and Influence People
How to Stop Worrying and Start Living
The Magic of Thinking Big
Awaken the Giant Within
And for you fiction fans:
The Adventures of Tom Sawyer
The Catcher in the Rye
The Sun Also Rises
Gone With the Wind
After you have a winning title, you need to do this.
4) Write Your Book Description Like a Sales Page
This is one of the most important lessons I learned when I published my first book on Amazon, 10 Steps to Effective Leadership.
This is a little easier for nonfiction writers. But a fiction book needs a description that sells, too!
Here are two things to include:
1) Promise to bring pleasure or get rid of pain.
Which gets your attention the most? Preventing pain? Or getting rid of it once it comes?
Most people choose the second option.
When it doesn't hurt, you don't think about it. When you're in agony, you can't think of anything else. If someone comes along with a way to take the pain away, you're putty in that person's hands, aren't you?
We love our dreams, too. Going after the gold is a lot more thrilling than wearing your seat belt. That's why people love the lottery. There might only be a small chance you'll win, but the pot is so big you'll risk it.
2) Throw in some cliffhangers.
How do TV programs keep you watching until the end?
They leave something unfinished at the commercial break.
We love closure. We want to know how things will turn out. And we'll wait as long as it takes to find out.
Put a cliffhanger in your sales copy. Make it so compelling the reader has to know – or she'll go crazy.
5) Find the Best Keywords
Amazon isn't just a store.
It's a search engine.
Your book is a web page in Amazon's network. When you enter a word or phrase into the Amazon search bar, you'll find books that match.
Amazon allows you to have 7 keywords. Choose them carefully.
You can create a list with a keyword tool like the one at http://keywordtool.io. As you enter the words on your list into the Amazon search bar, what comes up?
Click on the books on the first page of your results. Here's what you want to know.
The book's sales rank – If it's 100,000 or less, the book is selling multiple copies every day.
The price they're getting. Is it $2.99 or more? Or is it less?
Does the title use the keyword? When it does, the book ranks higher.
The sales page copy – Read it. What does it say? What does it promise? How long is it?
How many reviews does the book have? What is the average score?
This can take some time. But I promise you, it will pay off handsomely in the end.
6) Tell Everyone You Know to Buy Your Book
When I published 10 Steps to Effective Leadership, I told everybody.
I was excited about the book. I knew it was good. And I shared that enthusiasm with all my friends.
As a result, the first week people downloaded 1,400 copies!
Maybe you struggle with promoting yourself. You might feel it's spammy to ask people to support your work. After all, who wants to be a walking commercial?
It doesn't have to be that way.
Build relationships first. Be a friend. Do favors. Give compliments. Lend a hand.
Then something amazing will happen.
You'll have a fan base that wants you to succeed – and will go out of their way to help!
Bonus Strategy: Write Guest Posts
If you want to grow your audience, you should write for other bloggers.
I've been doing this for a while. While there's no money in it, you do gain something of even greater value.
Backlinks.
When you accumulate some posts that have links to your site, Google smiles on you.
I've been guest posting for a few months now. In November of last year, when you entered my name, Frank McKinley, in the search bar on Google, you probably saw Frank McKinley, the financial expert.
After guest posting, that Frank McKinley has been pushed off the front page!
I'd say that's a win!
Guest posting is the fastest way to build your following. If you get on a blog as big as this one, over 30,000 people (or more) can see your work. That's huge when your only audience is your friends in your writing group on Facebook.
Another benefit of guest posting is that soon people will see you as an expert in your field. They'll come to you for advice, and may even want to hire you! So be sure to have conversations with your readers in the comments section of your guest posts.
Go Sell Some Books
You've made it it the end!
Consider this a new beginning.
Use these strategies and create a book that works for you. Add guest posting and you'll sell even more – while quickly building an audience for all your work!
Let me know how it goes. I'd love to hear your stories, answer your questions, and cheer you on to your own bestseller!