Note: This is a guest post by Melissa Chu, she helps writers get productive and develop good work habits at JumpstartYourDreamLife.com. If you want to start getting more done and reaching your writing goals – grab her guide on goal setting and productivity.
Do you feel like you've gotten into a rut with writing? You find yourself trying to put down words, but your mind just draws a blank. The ideas just don't seem to flow anymore. Your mind feels like a dry well, absent of inspiration.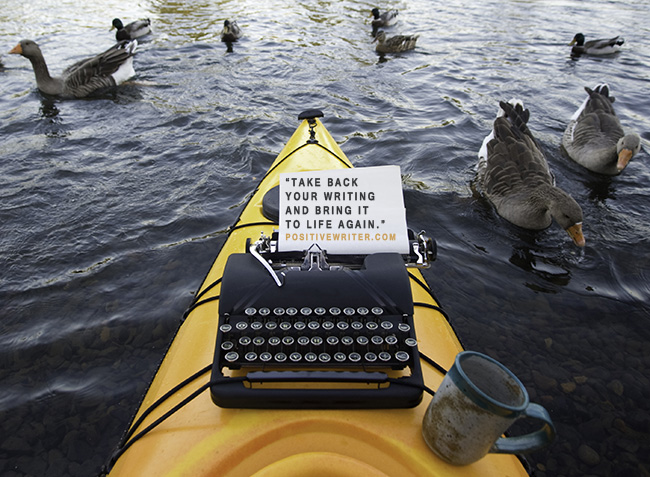 People say it's easy to start writing. But what about continuing? It can be tough to keep writing consistently. The initial motivation gradually wanes away, and what first started as a hobby has now become a chore.
Is this the end?
Sadly, at this point many people give up. But not you.
With a bit of rekindling, you can take back your writing and bring it to life again.
You can take back your writing and bring it to life again. (Click to Tweet)
1. Reshape your daily routine
Having a routine is immensely helpful in making writing a habit. When Ernest Hemingway wrote, he made sure to keep to a schedule. "I write every morning as soon after first light as possible," he once said in an interview. "There is no one to disturb you and it is cool or cold and you come to your work and warm as you write."
Now is the perfect time to look at your schedule and figure out how to carve out time to write. Maybe you write better in short spurts throughout the day. Or perhaps blocking out an hour in the morning works better?
For me, it's become a daily habit. Even if I don't wake up feeling the urge to write, it's just something I do automatically. Using an hour or so that I've blocked off, I write regardless of how I feel, knowing that I'll eventually get into the mood to write if I just get started.
Make a commitment to write something today, no matter how much (or how little).
2. Read, read, read
A good way to warm up your writing is by reading. Why not let other people's work inspire you?
Read anything: blogs, novels, or magazines. It's easy to stop writing when you feel stuck or overwhelmed by the whole process. Reading gives you fresh concepts, which can mix together to form new ideas that inspire your creative process.
But here's the catch:
Reading alone isn't enough.
You need to act. Whether it's jotting down a few thoughts in your notebook, or typing furiously on your laptop, putting into words your observations can lead to surprising insights and even breakthroughs in your story writing.
3. Take a (small) step back
This is the "why" part of writing. When you're in the midst of writing a book or a piece, you place all your focus on the small details, making it easy to lose sight of why you started in the first place.
Unfortunately, a lot of writers start to feel disillusionment and second-guess their work at this point.
If you find yourself in this situation, pause for a second. Think of why you began writing in the first place. Is it because of your need to share your ideas with the world? Do you aspire to create something that changes people's lives?
If so, write it on a piece of paper. Putting down your goals makes them more concrete. It creates a sense of commitment rather than just letting thoughts float by in your head.
Now, every time you feel like giving up, you can pull out what you wrote to remind yourself of why you began in the first place.
You never know where the road will lead if you continue
It can be tiring to be down in the trenches plugging away. Writing seems to have lost its initial lustre and is starting to feel monotonous.
Find ways to reinvigorate yourself. This could mean incorporating a new activity or routine into your life, being inspired from the writing of others, or gaining a long-term perspective behind why you write.
Ultimately, the most important realization is that the rewards from writing take time to bloom. And once they do, you'll be glad you stayed.
Over to you now. What are some techniques you've used to fall in love with writing again, even when the road got tough?
Click to -> comment.