I write. You Write. We write. Daily, monthly and yearly. You're a good writer and you love it, but sometimes you don't love it so much and you need a break. Sometimes a long break.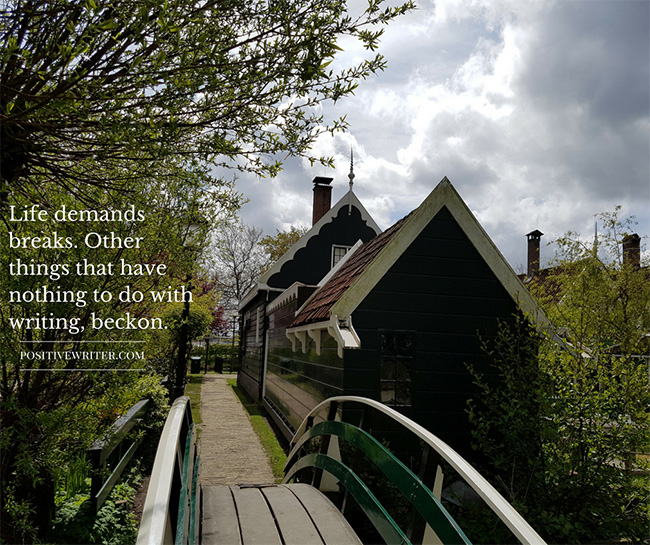 Here's the thing, you're not a machine. And, frankly, neither am I.
The last few months I've felt less and less like writing and the more I forced myself to write, the less enthusiastic I've become.
Sometimes in life, you just don't feel like it. You need something else. You need to go, do, be, have, give… something else.
But instead, we punish ourselves. Harshly.
We're taught that we can't rely on inspiration, we can't rely on desire, and we can't rely on enthusiasm, joy and the muse.
We read blog and after blog about how important it is to write 500 words a day, 200 words a day, or hell, 2000 words a day.
Every day.
Some people can do this. There's no denying that. Until the time comes when they can't or simply don't want to, but they'll fight the good fight and force themselves to continue writing, good, bad or ugly.
It doesn't matter as long as the pen is moving. So they say.
But life demands breaks. Other things that have nothing to do with writing, beckon.
Every year I go through this lull. Every year I fight it. Every year I say inspiration be damned and I fight through the period of nothingness… no new ideas… no brilliant schemes to keep scribbling…
Here's the thing, contradictions be damned, I. Am. Not. A. Machine.
I'm going to take a break.
And, that's okay.
Maybe, when you find yourself stuck or in a lull, a break will do you some good too.
*The image above is from our vacation in Holland last week. If you'd like to see more pictures from our trip, I posted them on the Positive Writer Facebook page here.