It goes beyond mere writer's block. It doesn't care about deadlines, and can stopper your writing voice for months at a time. It's deep, it's baffling and it's not often talked about in writing circles.
It's writer's burnout.
And whether you're published or not, prolific or not, writer's burnout is coming for you. In fact, I'm sure you've already experienced it, and perhaps you're even battling it right now. Are you ready to beat it?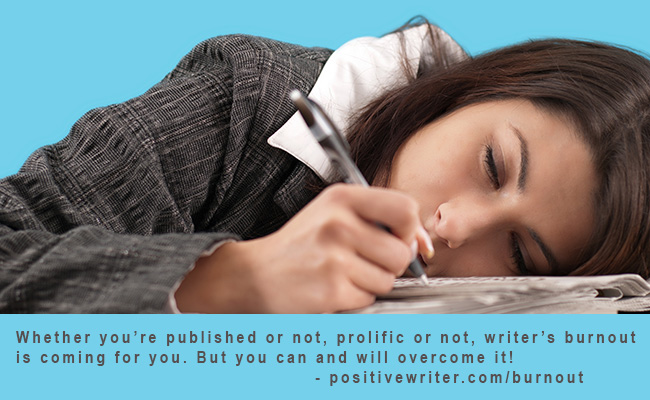 What's Writer's Burnout?
Unlike writer's block, in which your writing voice gets tangled in a web of competing thoughts and objectives, writer's burnout carries a tinge of resignation. You're not just temporarily silenced, you're sick of the entire process of getting your voice unstuck.
Not caring as deeply as you did just moments ago can be a profoundly disconcerting experience, and as a result, not many writers talk about how burnout saps your will to do creative work.
Ultimately, you just get tired of writing. You're suddenly, totally over this whole writing business. And because all your writer friends are chirping "#amwriting! Word count done for today!" on Twitter and in your writing groups, you wonder if something's actually wrong with you.
Don't worry; nothing's wrong with you.
But writer's burnout won't go away on its own. Here are four strategies to help clear it out and get you back to the business at hand.
Beating Writer's Burnout
4. Re-route your creative energy.
Even on the best of days, writing can be a slog. If you've exhausted your mental resources and no longer have the "fight" left in you, give yourself permission to walk away. Without guilt, without nervously wondering when you'll next get butt-in-chair time.
Pull your creativity in a different direction. Rearrange a bookshelf. Stop by a local library and check out the local art and historical exhibits it houses. Borrow a CD by an artist you've never heard of. Sit in a chair and listen to it.
3. Deliberately leave the writing, and reconnect with a loved one.
The spouses and family members of writers are in a privileged and often thankless position. Think about it. They tolerate those moments when you simply vanish inside your own mind, working out plot points or connecting dots no one else can see. They have you get used to you writing in their vicinity, seeming so available yet so completely far away.
Go back to them. Concentrate all your energy on making sure they know how much they matter to you, how interested you really are in their lives, and just relax in their company for some time. You'll recharge more than just your creative batteries.
2. Give your busy mind a vacation.
A truth universally acknowledged of writers and other creative: Our minds are very busy. Annoyingly busy. We can't shut them off. They're always running, talking, connecting, deconstruction, rebuilding, wondering, and worrying.
However, it's also truth that where the body goes, the mind follows. For a few days or weeks, throw yourself into your day job (if you have one). Lose yourself in physical activity (and no, it doesn't have to be exercise, though that helps). Clean out a gutter. Split some wood. Walk one station farther down the subway line before you hop onboard. Fix your old mountain bike and take it for a spin.
Extra credit: If you don't have children of your own, offer to babysit your cousins, nieces, nephews, or close friends' kids for a few hours. Being around kids has a way of re-routing your stuck thought processes. They also wear you out, which can be a good thing.
1. Permit yourself to be sick of writing for a while.
Writers don't like to talk about when they're sick of words and writing and their characters. They isolate themselves, freezing their frustration in time. With no way to let their feelings out, the writer's burnout doesn't run its course.
When you're feeling a bout of burnout coming on, try strategies 2-4, but remember that you'll get over it faster if you're open about feeling more #notwriting than #amwriting. (And I bet you'll find some voices out their willing to commiserate. Misery loves company.)
And before you know it, your burnout will fade. You will want to start writing again. It'll take some time, but the words will be back. I promise!
Have you suffered from writer's burnout? Have any tips to offer your fellow writers? Share your experiences with us in the comments.
This post is by Shanan Haislip.