It gives me great pleasure to announce the publication of my latest book, Inspired Writer: How to Create Magic with Your Words. It's dedicated to you: The Writer. It's a fight song. It's about letting go and becoming inspired to write what you're called to write.
For this weekend only (including Monday), 17-19 Sept 2016, I'm promoting Inspired Writer for just 99cents on Amazon! I'm also giving away 3x $25.00 and 1x $50.00 Amazon gift cards.
Find out how to get one of the gift cards…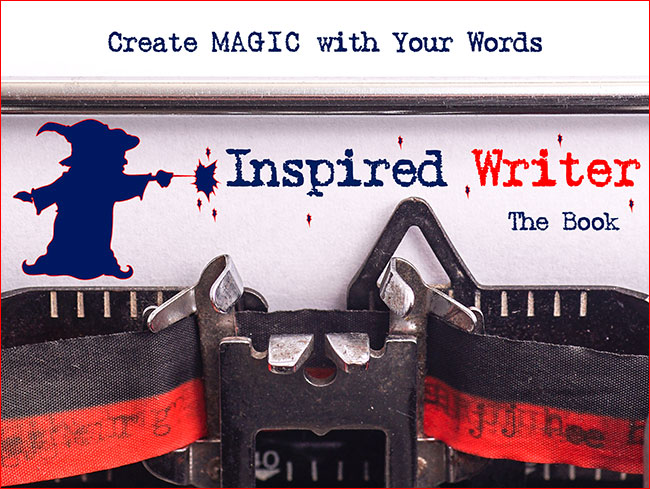 The Inspired Writer is my favorite book on writing of my own, so far. It's been a long time coming. I feel I was called to write this book. It's a unique and real way to inspire writers in the trenches.
A few years ago a good friend, Jeff Goins, encouraged me to pick a fight – if you disagree with something or the way something's done, for which you are wholeheartedly passionate about, say it. But at the time, when I first joined his community of Tribe Writers, I wasn't ready to say what I needed to say, and frankly, nobody in the writing world knew who I was. That's all changed.
I'm not sure this new book is what he had in mind, but I tell you what, I picked one hell of a fight. After he reads it, I might get a message from Jeff saying something like, "I said: Pick a fight – not to start a war!" Ah well, I think he'll love it anyway. We need a good old fashioned revolution once in a while. Thanks for the encouragement, Jeff!
It's my hope that Inspired Writer will inspire you to new and extraordinary heights in your writing and your art. For a hint as to what you will find in the book listen to this short excerpt:
WARNING: This might not be what you're expecting, but it might be just enough to already get you started on a new journey. If just a paragraph does that – imagine what the entire book will do.
Special Thanks to Dargan Thompson for editing and Ana Grigoriu for the cover design.
How to Create Magic With Your Words: A new book and giveaway from Bryan Hutchinson (Click to Tweet)
How To Enter the Gift Card Drawings:
Review Drawing: Post an honest, unbiased review of Inspired Writer: How to Create Magic with Your Words on its Amazon page. All reviews will be entered into a drawing for a $25.00 Amazon gift card. 3 gift cards for $25.00 will be awarded to 3 winners. (If you have a blog, I'd love it if you also post a review on your blog!)
*Important: To officially enter you must post the link to your Amazon review in the comments section of this post.
Quote writing contest: I will pick a quote from one of the reviews to post at the top of the (forthcoming) book's page, here on Positive Writer. If a quote from your review is chosen you will receive a $50.00 Amazon gift card. Simply write an honest, well-written review. I've found that the best quotes tend to come from unbiased, honest reviews.
Inspired Writer will be available for 99cents for the next 3 days from 17/Sept/2016 until midnight of 19/Sept/2016! <- Click to go get it!
The last day to enter your review into the drawings is 30/Sept/2016 extended until 2 October, Midnight!
That should be enough time to post your review and get your name in the hat. The drawings will be conducted via an automated online random drawing app and the quote will be selected based on secret conditions as to not influence your reviews, simply post a well-written review and it will be carefully read for quotes that qualify.
The contest is open to anyone who can write a review on Amazon and can receive gift cards from Amazon US. Have fun. I look forward to reading your review. Remember to post your the link to your Amazon review in the comments to be included in the drawings.
PS: If you find a quote in the book that you especially like, feel free to also share it in the comments.
(Update insert: It's official, thanks to you, Inspired Writer has become an Amazon #1 Bestseller! Woot! Woot!)