Since we've already discussed Surviving Criticism without Losing Confidence in Your Writing, I thought it would be fun and helpful to also talk about the best way to give others feedback on their writing.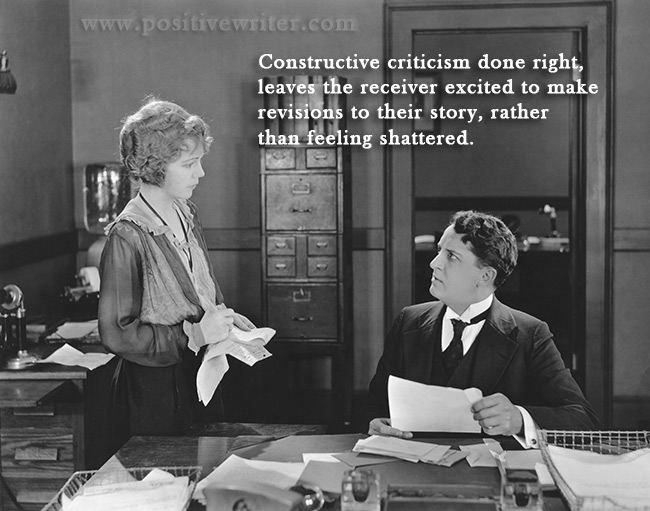 I recently read, Creativity, Inc. – Overcoming the Unseen Forces that Stand in the Way of True Aspiration by Ed Catmull, President of Pixar Animation and Disney Animation. They produced such modern-animated classics as Toy Story, Monsters, Inc. and Frozen.
I learned there are distinct differences between criticism and constructive criticism.
Catmull conveys that with constructive criticism, you're constructing at the same time as you're criticizing. You're building as you're breaking down, making new pieces to work from what you just ripped apart.
It's an art form we all should learn.
Ugly Babies
Creativity, Inc. says originality is fragile. Early on, your story is far from pretty. Even if it's just page one of your someday four-hundred-page novel, your writing comes from deep inside you and you already love it.
Catmull describes this infancy stage of your work as an 'ugly baby.'
How would you feel if a stranger; or worse, a friend, family member or writing mentor saw the child snuggled in your arms and shouted, "What a Gawd-awful ugly baby! I mean, his eyes are almost crossed, and will ya look at the schnozzer on that kid? Disgusting!"
It would crush you.
Many writers feel as attached to their stories as they do to their children. Some have been so hurt by criticism that they quit the craft altogether.
It's a shame.
Be gentle when critiquing an ugly baby. Don't be responsible for ruining what could've been a beautiful story – if it had the chance to grow up.
Here are three ways to help your fellow writers without insulting them.
1) Use Candor, Not Honesty
Most everyone agrees honesty is the best policy. Nobody wants to be known as dishonest, or worse; a liar. Catmull says, "A hallmark of a healthy creative culture is that its people feel free to share ideas, opinions, and criticisms."
However, there's baggage that comes with honesty and he suggests we use candor instead. "Candor is forthrightness or frankness – not so different from honesty, really. And yet, in common usage, the word (honesty) communicates not just truth-telling, but a lack of reserve. Everyone knows that sometimes, being reserved is healthy, even necessary for survival."
Do not misunderstand me, you can argue or disagree heatedly about a story. Certainly the other person needs to know what didn't work or confused you about their writing, but you can temper your final judgment until their piece is more fully formed.
"Creativity has to start somewhere, and we (Pixar and Disney) are true believers in the power of bracing, candid feedback and the iterative process – reworking, reworking, and reworking again, until a flawed story finds its throughline or a hollow character finds its soul."
Don't insult someone's ugly baby, especially early on in the writing process. Ask questions to help the author find their story. Sometimes they're too close to their own words to achieve objectivity.
Example:
Don't say: "Nothing about this plot works. It's already been done a thousand times."
Instead, try: "I'm intrigued by this idea. At this point, what do you think the overall message is you're trying to convey? Let's brainstorm, so your story can have a really fresh twist."
The first comment is too raw and direct. The second still conveys something is off, but it isn't as disheartening.
2) Candor isn't Cruel
If you've ever shared your writing with others, then you've probably experienced painful criticism. It hurts, doesn't it?
Catmull says when critiquing, "Your objective is not to destroy the other person. On the contrary, successful feedback is built on empathy…we understand your pain because we've experienced it before."
Yes, it's important to be candid about where someone's writing needs improvement, but it's not just what you say, it's how you say it.
Example:
Don't say: "The dialogue in this scene isn't realistic. Nobody talks boring like that."
Instead, try: "I like you're characters, but I know you want people quoting your novel long after they've read it. Let's brainstorm ways to bring your dialogue alive."
The first comment falls flat and doesn't help. The second still says something is wrong, but is much more open and encouraging.
3) Start with the Positive
This last suggestion is mine, not Catmull's. Whenever I hear someone slam my work, it's hard for me to not shut down. Sometimes, I don't hear another word after that initial cruel punch.
When offering feedback to others, I try to find at least one aspect I like about the writing and start there. Yes, it was a challenge, but it was always early on in the author's story when he/she was still finding their way.
Try to treat others writers the way you want to be treated (The Golden Rule, baby).
Example:
Don't say: "Your main character is static. As a reader, I don't care what happens to her."
Instead, try: "I'm intrigued by your character. Keep working on her (her goals, motivation and conflict), so that she comes across as more three-dimensional and real."
Recap – Constructive Criticism
1) Yes, writers need to hear what's wrong with their work in order to improve it, but there's a positive way and a negative way to convey that message.
2) It's not just what you say, it's how you say it.
3) Constructive criticism done right, leaves the receiver excited to make revisions to their story, rather than feeling shattered.
What's the most constructive criticism you've ever received about your writing? And/Or how about telling us about how you give constructive criticism. Share in the comments.
This post is by Positive Writer contributor, Marcy McKay.