Early in 2013 I decided to do something that scared the living hell out of me. I decided to give away my memoir, One Boy's Struggle, for free via Story Cartel in exchange for honest reviews.
It was scary, because, I mean, really, who gives away their book for free? How can you put food on the table that way? Baby needs new shoes! Crazy. Just crazy.
Or, maybe not. As it turns out it was the best thing I did for my memoir…
Story Cartel is a website where you upload your book and give it away for free in exchange for honest reader reviews on Amazon.
I was very skeptical about offering my book for free in exchange for honest reviews because free eBooks are, well, I'd say a dime a dozen, but they are free.
My first thought was that most people who download a free book are not likely to review it, even if they do like it.
It was from experience, not just skepticism that I thought this.
I've given away over 150,000 free copies of free eBooks I have written and I can count the number of times people have sent me a thank you on both hands.
If thank you's and reviews were the reasons I was giving books away then I was doing a horrible job of it, so there must be another reason. That other reason is where the real thank you's and high fives come from!
Story Cartel doesn't guarantee anything. 
Rather than be cynical and mistrusting I figured it was better to believe people were going to do the right thing, especially if they liked the book, and I hoped with all my heart they would forget the agreement if they hated it.
Why offer a bestselling book for free?
Since my experience with "free" wasn't that of people sending praises, then why do it with my memoir?
The same reason I have always done it. To do what most others are not willing to do, and to be as generous as possible.
Being generous is the true secret to happiness and success.

(Be generous, tweet this.)
However, there's another vital reason to give a book away for free, one that too many authors do not realize.
One Boy's Struggle: A Memoir was already a bestselling book long before I considered Story Cartel, but it was published in 2007 and in the last year or so sales had started to slow down.
I wanted to ignite new interest.
Why you should use Story Cartel
Word of mouth is still the best marketing in the world. If you can get a lot of people to talk about your book, then you have an amazing opportunity to sell a lot of copies.
Self-publishing is easy, you can upload your book to Amazon and start selling immediately, but let me ask you this:
Do you remember the last time you heard a tree falling in the woods when you weren't there?
Exactly! And that's a problem.
Story Cartel not only provides you with an avenue to get honest reviews, it also provides a way to spread the message about your book fast.
Even if the majority of people never review it they will still have been exposed to it, and people being people, if they liked it they will tell others about it.
A friend's recommendation is more influential than any advertisement in the world.

(You know it's true, tweet it)
The hardest thing to do as an author, especially a new author, is get people interested in your work.
Giving your book away for free for a limited time is not just the best way to reach a large audience fast, for most self-published and many traditionally published authors it is the the only way.
Few people want to lay down money on an unknown, that's the way it always has been and always will be, you must become "known".
You need a story cartel to become a known author. (Tweet)
Reviews are not the only reason to give a book away. The word of mouth that is generated from many people reading your work is what you're really after.
You've got to have trust
Once people start talking about your book you absolutely need reviews on your Amazon page.
I am not talking about 5 or 10 reviews; I am talking more in the range of 30 to 50.
The more honest reviews you have on your Amazon page, the more likely people are to buy it.
If you want to launch your book and gain interest in it quickly or ignite new interest in an already published book, you need a lot of people reading and talking about it, and reviewing it. Therefore…
You must get your book into as many hands as possible.
That's not easy either. There are millions of free books struggling to get attention. As awesome as your work is, you need to acquire attention for it.
You need a story cartel with the means to deliver your book into as many readers hands as possible. People who are interested in it and are willing to agree to exchange their reviews for it.
Story Cartel has the means to get you where you want to go with your book and they make it easy for you. Simply visit their website and go to the launch your book page for instructions.

Top 7 reasons to give your book away:
Generate word of mouth and become a known author.
Generate reviews faster than waiting for people to hopefully buy it, which, of course, can take a long time if you are an unknown.
Most people love to reciprocate generosity, it's built into our DNA!
How many people download the free copy helps you estimate what your real market reach is. One Boy's Struggle became Story Cartel's second most downloaded book ever during the time it was offered for free.
Attract readers to your website and to any other books you may have published or will publish.
Exposure, exposure, exposure: Story Cartel sends your book to 10,000 members!
Finally, if your book is good and resonates with the people who downloaded it, this will help generate sales after the promotion. Sales you would not have had otherwise.
300% sales increase after using Story Cartel!
You read that right. I gave my book away for free in exchange for honest reviews and my book sales increased 300% after the promotion ended.
How's that for a thank you?
And yes, I received many reviews, too. (Here's a great example of one in particular thanks to the Story Cartel promotion.)
It's a good idea to get over your fears of giving your book away for free, because if it is done for a limited time, for a specific purpose, and carried out in the right way, it can be very rewarding for everyone involved.
A word of caution
I would be remiss if I did not reveal this warning for small niche authors:
Be aware that if your book is for a select group of people, sending it out to a wide audience may generate reviews from people who did not "get it".
My memoir is mostly about me growing up with undiagnosed ADD and how I later overcame my challenges. Giving it away opened me up to criticism from those who do not believe ADD is real and to those who see memoirs about challenging childhoods as "victim" stories.
Even more worrisome, was that my memoir was written as a personal journal not originally intended to be published. I published it to help others, but I only made minor modifications to the journal for publication, and, for the most part, it is still my original, raw, personal journal.
Yes, some of the reviewers pointed out the editing flaws as I feared and some were dubious about ADD, but overall the reviews were positive and helpful, and more importantly, worth the risk! A good book is a good book.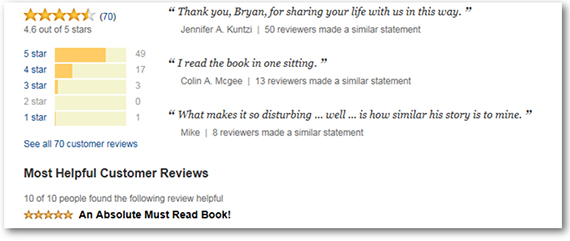 Special announcement:
I will be launching my new book "Happy Every Day" via Story Cartel in September in EXCHANGE for YOUR honest REVIEWS.
However, I will only be sending out notices to download it via Story Cartel to the subscribers of Positive Writer.
So if you haven't subscribed yet, go ahead and do that now, located below this post.
Help me spread the word about my upcoming book launch by sharing this post.
Will you consider giving your book away? If you have already, share your experience with us in the comments.
*Story Cartel is currently a free service. There are no affiliate links in this post.