Note:
This is a guest post by 
Jennifer Brown Banks
, she is an award-winning blogger, ghost writer, and popular relationship columnist. She enjoys cooking, karaoke, and reading. Visit Jennifer at
Pen and Prosper
.
It's certainly no secret to today's writers that guest blogging provides a great way to build their platform and amplify their "voice." Top bloggers like Leo Babauta of Zen Habits and Darren Rowse, in fact, highly recommend it.
Still, very few writers reap the potential benefits of guest blogging, due to their approach and a lack of awareness of how to "work smarter, not harder."
With this in mind, today I'll share a few ways to increase your blogging I.Q. and ultimately your bottom line.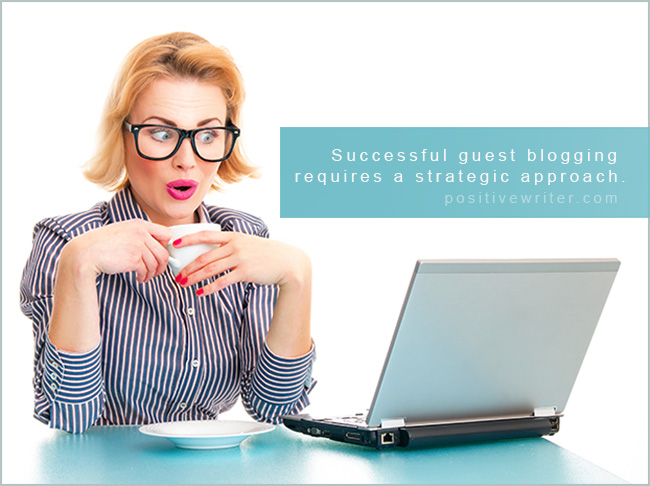 First things first…
HOW I BECAME A BETTER STUDENT AND INCREASED MY KNOW-HOW AND "NET-WORTH"
I've had my share of hits and misses when it comes to guest blogging. I've been rejected by some of the best in the industry. But to my credit, rejection didn't discourage me, or make me doubt the importance of my message. I kept trying. And you should too.
When editors/bloggers noted something that they felt needed improvement in my work, I addressed it. When I wanted to increase my success rate, I read and studied the works of top bloggers I admired. Eventually, what I learned and applied enhanced my efforts.
What I will share with you here is based upon several years of guest blogging at sites such as: Pro Blogger, Men With Pens, Write to Done, Daily Blog Tips, and Technorati.
Before we move forward on today's tips and lessons, let's start out by testing your knowledge of the guest blogging process and key principles.
TRUE OR FALSE?…
– Bloggers should submit a guest post to any site that accepts contributions.
– All blogs are created equally.
– Guest blogging does not provide for compensation. All work is done for free.
– Guest blogging is an entitlement.
– Writers should always request permission before sending their posts.
– It's virtually impossible to get acceptance by the top blogging sites.
– You should only guest post within your niche.
– Guest blogging does not require a game plan.
Now for the big reveal…
All of the above statements are false!
Here's what you need to know:
Successful guest blogging requires a strategic approach.
Instead of submitting to any site that is open to submissions, target high quality, respected sites that will give you a greater return on your investment.  Realistically speaking, if a site is not getting a lot of traffic or readers, how much exposure can you expect to receive for your efforts?
All blogs are not created equally. Remember…
The goal is to work smarter, not harder. (Click to Tweet)
A good way to identify the best sites to target is to do research.
Check out the blogs that are reflected in the "Top 10," "Top 25," and "Top 100," such as Positive Writer's Top 25 writing blogs listing.
1, Have them at "Hello."
Don't start with an amateur approach. For example, some bloggers will send me a pitch that starts off: "Dear Pen and Prosper." …that's not my name. Or, they'll send an email that asks, "Do you accept guest posts?" When it clearly states on my site that I accept guest post submissions.
Show that you are a professional poised for success by reading and following the writers' guidelines outlined at the targeted site, along with the archives.
2, Consistency is crucial.
For optimal results, you'll need to post at multiple sites, over a period of months, sometimes years, for true name recognition and branding. "Repetition reinforces."
A good game plan is to identify 6 or 7 of your favorite sites over a 6 month period. Come up with titles, topics, and timelines for completion. Then get going. It works if you work it!
3, Location, location, location!
This is a mantra in real estate that also applies to guest blogging. As mentioned earlier, where you blog will have a significant impact on the type of results and responses you'll receive.  Choose wisely.
A few years ago, when I was seeking to expand my client base and my bottom line, I targeted the site Pro Blogger for a guest post. It was a long-shot, but I chose it for its reputation in the industry and its huge audience. It took weeks (and several revisions) before I made the cut, but it paid off. Within 72 hours of my article appearing, I got a huge spike of traffic at my site. I also received 3 emails from business owners seeking to hire me for future work. One became a repeat client.
4, Put your best foot forward.
This may seem like a given, but it's not. Some bloggers mistakenly save their best work to post at their own sites; not a smart move.
I assume your goal is to "win friends and influence people." If this is the case, you need to constantly give your best when you put work out into the blogosphere.
5, Don't over promise and under-deliver.
Perhaps the headline of your post boasts "100 Ways to promote your book for less than 100 dollars." You better believe readers will be expecting just that. If you disappoint, you'll lose credibility and future fans. Be mindful.
Success breeds success.
The more you guest post and hone your craft, the greater the likelihood that you will increase your skills, your confidence, and your bottom line.
Effectively used, guest blogging is one of the most inexpensive and strategic ways to promote your business, books, or services; thereby elevating your platform, potential sales, and the height of your success.
Always be a professional, put your best foot forward, under promise and over-deliver, pick the right blogs, and be the awesome blogger that you are!
What has your experience been with guest blogging thus far? Any of these tips resonate with you or do you have any tips to offer? Share in the comments.