I'd like to do a few quick shout outs to online friends who are helping me spread the word about Writer's Doubt: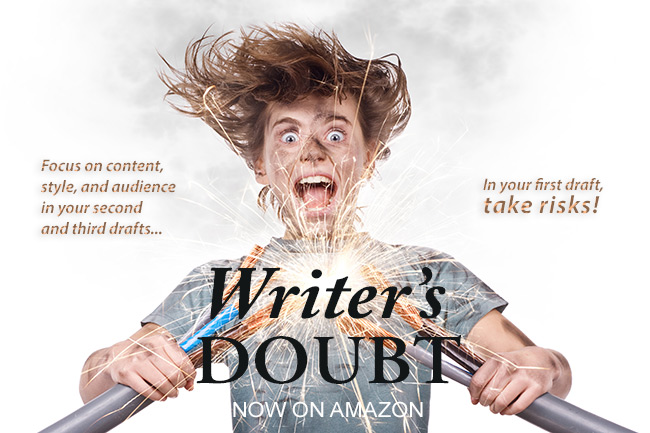 Here's the thing, you can't launch a book alone. It doesn't matter how big (or small) your platform is, you just can't do it.
Well, I guess you can, because I have, but unfortunately that's not a great way to get the word out. That is, if spreading the word is your goal, which it should be. Right? Right.
Before I get around to thanking the good people who have been kind enough to mention me or host me on their websites, I'd like to thank you.
THANK YOU!
Without further ado…
I recently guest posted on Jeff Goins' blog with:
This Is the Worst Advice You Can Give a Writer
On CS Lakin's blog with an excerpt from Writer's Doubt:
5 Tips to Gain Confidence and Overcome Writer's Doubt
And on K.M. Weiland's site with another short excerpt:
Which Is More Important? Writing or What We Write?
Thanks Jeff, Susanne and Katie, totally appreciate the support!
Amazon Reviews
The reviews are starting to come in on Amazon, here are a couple excerpts:
If you're a creative entrepreneur (or would like to be), particularly if you're a writer, blogger or speaker, you've certainly had to deal with doubts about your talents and skills. If that's you, the just released book Writer's Doubt: How to Overcome Doubt and Create Work that Matters is the antidote you need for the mental poison of doubt that can crush your dreams and delay any opportunity for success.

~Stevie Knight
Writer's Doubt (the book) has given me the inspiration and practical tips to slog my way out of the sticky darkness that doubt has sunk me into. I am looking forward to using Bryan's practical tips for creating writing rituals, respecting the first draft, and writing the truths that my past has taught me.

~Jennifer K. Powell
Read all the reviews by clicking the image below.

Online Mentions
I've also done a few Skype and written interviews, and those along with a few other mentions are here for you to check out:
If you're not listed above and you've mentioned Writer's Doubt on your site, send me a note along with the link and I'll add you.
As promised I have created posters from excerpts readers have sent me from Writer's Doubt. Feel free to print, use as desktop backgrounds, pin to Pinterest, or post on your blog (for blogs, I only ask that you link back to this post).
Attention Bloggers: If your blog is about writing and you would like to review Writer's Doubt on your site, send me a note at Bryan.Hutchinson (@) positivewriter (.) com
THANKS EVERYONE!!! The overall reactions and acceptance of this new book for writers has been nothing short of awe-inspiring. #Totallyhumbled