Over the last few years a lot of people have written me "Thank You" emails for an eBook I wrote titled, Good Enough –Stop Seeking Perfection and Approval. It's a very short book with a basic, yet profound premise that you're good enough. That's it.
Or is it?
Why has such a short eBook had such an impact, become something of a viral phenomenon, and (what really surprises me), why do so many consider it my best work? Good questions…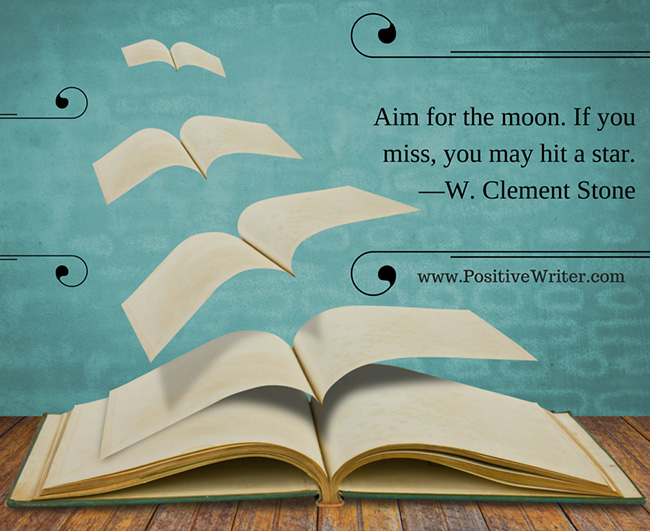 I used to believe that I had to think up a grand idea for a book, and that when I did it would be so compelling that everyone would want to read it and recommended it to their friends. Eventually, I learned it doesn't work that way. Well, not exactly.
You can come up with what you think is a perfect idea for a book, have a great launch, sell (or give away) thousands of copies, and after a few months the excitement over your book dies a quiet, heartbreaking death. When this happens, the worst part is not knowing why it died.
Was it a bad idea? Was it poorly written? Did it just suck? Did you build a decent platform? Did you connect with your readers? Or was it just bad timing? Or (insert any question here).
Let's assume you had the best editing money could buy, a great marketing campaign, everyone was on board, the book cover was outstanding – I mean, it was absolutely frigg'n brilliant! But alas, it still fizzled out.
Pick any reason for failure and the odds are you'll be wrong. The reasons we pick tend to be consolable in nature, to make us feel better about something that stumps us and hurts like hell. I know this all too well.
The truth is we usually don't know why.
If we did, we'd write bestsellers all the time. But we don't.
Writing a bestseller often seems as if it's merely a game of luck and timing, and a lot of other factors no one has completely figured out.
There are three rules for writing. Unfortunately, no one can agree what they are. ―Somerset Maugham
Should great stories and great writing make for runaway hits?
We'd like to hope so, but there are plenty of great stories from great writers that no one's ever heard of and there have been plenty of blockbusting bestsellers you wouldn't recommend to your worst enemy.
I know, there are big names who publish hit after hit, such as one of the biggest of them all, Stephen King. However, if you do a little digging you'll discover his first hit came as a complete surprise and was far from considered a sure thing.
Actually, in frustration, King threw away the draft pages of what would become his first published novel. Thankfully his wife dug them back out of the trash. (The book was Carrie, 1974. Several adaptations of Carrie have since been released, including a 1976 feature film, a 1988 Broadway musical, a 1999 feature film sequel, a 2002 television movie, and a 2013 feature film remake. Source.)
If thinking long and hard, doing tons of research, and then writing about the best idea you ever, ever, ever (and I mean, ever) had might be a futile attempt at pleasing the masses, then what's the best plan?
I don't know. No one does. But I have some ideas!
I consider Writer's Doubt my best work. It has reached a lot more people in such a short time than I dreamed it would, it's touched lives and has helped artists overcome what's been holding them back. Although this book seems to have reached a wider audience, it still pales in comparison to the popularity of two other books I wrote and gave away for free.
Now before you think "free" is the defining factor here, it's not. I've given away eight other free eBooks that haven't been downloaded a fraction of what the top two have.
The crazy thing about the top two books (Good Enough being one of them) is that they were both written in the spur of the moment and took very little time and effort. The ideas just popped into my head, I wrote them down, packaged them as eBooks, and gave them away and:
POW! BANG! BOOM!
I was stunned by their success. I've spent years working on books that can't compete with those two spur of the moment books. Don't get me wrong, I am extremely proud of the books I spent a lot of time and energy on, but I would hope they'd have the success Good Enough has had with reaching a wider audience.
We could analyze Good Enough all day, the simplicity of it, the frankness, the generosity, the colors, and hey, let's not forget the words – because I used so few of them.
And, hey, what about that subtitle? Stop Seeking Perfection and Approval. It's perfect, right?
But ultimately:
We. Just. Don't. Know.
No one knows.
So here's the first moral of today's post about how to write a bestseller:
When an idea comes to you in the spur of the moment and it seems so trivial that you think you should ignore it, don't. Write it. Package it. Publish it. Promote it.
You never know how far that idea might spread. Do the same thing for the ideas that have been sticking with you for years, because you don't know which ones will blossom beyond your expectations.
And that's about as close to figuring out how to write a bestseller as any of us will ever get. We just don't know which ideas will take off. It might not be the idea that you consider your most brilliant that resonates with readers, but that's the real stumper, it's not up to you and me. It's up to the audience. And they don't even know.
Before you think the big traditional publishers know, they don't really know either. They publish thousands and thousands of books you'll never hear of, most of those books never make it into any book store, and of course the publishers would love all of them to become bestsellers, and yet, guess what? They don't.
For all intents and purposes, I bet your life's masterpiece is the work you're most proud of. How many people download it or buy it isn't as important as the actual creation of it. At least, not to you.
Although most advisers will never admit this to you, that's fine, too. Not every book written needs to connect with the masses and I would even argue that they shouldn't, but that's for another debate, er… I mean, post.
Who knows, though, with some luck and at a future point in time, your most prized work may become a bestseller. That's the great thing about self-publishing, your work doesn't have to take off immediately, it can become a hit tomorrow or even years later as you build your platform.
In other words, your work grows with you.
With traditional publishing on the other hand, there's usually a ticking clock until your book goes out of print or the publisher gives up on it. This is important to know, especially if you're still building your platform and your brand. In case of something like this just make sure the rights revert back to you if the clock hits midnight or the publisher goes out of business.
It's not about perfection
By the way, Good Enough has a few typos in it, since it's never been edited, and I didn't hire a book cover designer to design a super cool cover for it either. But tens of thousands of people have downloaded it. And I'm absolutely amazed by how many emails I've received from readers who have been inspired and motivated by it.
I'm honored and grateful. But, wow! This little-book-that-could was never intended to attract so much attention. I wrote it as a short inspirational lift for a few friends and I thought that would be the end of it.
Wouldn't it be worth something to know why such a book has attracted so much attention? As a writer, don't you think that information would be valuable? We've got to know stuff like this if we want to be successful and write books that people will actually read and pass on to others.
Alas, there is no easy answer. No magic bullet. No top secret formula. However, with that said, over the years of writing and publishing books both for sell and for free, I've learned a few things…
10 tips on creating a bestselling book:
1) You already know how to write bestsellers and that is to take your ideas and write the best books you can write and then publish them.
The best way to have a good idea is to have lots of ideas. ―Linus Pauling (Tweet this Quote)
2) Accept that it's not completely in your hands. Create a team of experts to help you, such as an editor, cover designer, brain stormers and beta readers, and finally a launch team to help you spread the word and write reviews.
3) Create a budget. If you don't want to spend any money, that's okay, but know that you are handicapping your book's commercial potential. It's almost impossible to get a good editor for under $500.00 (starting), you'll need a graphic designer, and buying a little advertising space doesn't hurt. Create a budget that you can afford and go from there. Save up if you need to, it's worth it.
4) Market the hell out of it:
a) Launch with a bang! b) Guest post on as many blogs in your niche as you can, both the well known and the not so well known. (See #5) c) Ask your beta readers and launch team to review it. d) Pay for advertising on social networks. e) Get with your brain storming team and come up with more ideas.
Bonus: If you want to read in detail how to do a great book launch, read Jeff Goins' post on how he launched his book The Art of Work. (We've got to take advantage of good, free information like this if we want to succeed.)
Writing a good book is not enough. Without great marketing, you are dead in the water. —Michael Hyatt (Tweet this Quote)
5) Build your platform. Start a blog, network, and help your fellow authors get the word out about their work. Reciprocate. Reciprocate. Reciprocate. This is where the real magic happens.
The first interview I ever conducted on Positive Writer was with the one and only Guy Kawasaki, co-founder of Alltop and he was the chief evangelist for Apple. The best part was that he contacted me to promote his book APE. That only happens if you build a platform and are willing to create magic by reciprocating. My next interview was with the king of bloggers, Seth Godin.
Build it and they will come. Or, at least, let's hope so. But if you don't building it, they certainly won't come.
6) Never, ever, lower your expectations. Raise them. Stretch until it hurts and then stretch some more.
I know firsthand how much it hurts to not reach a specific and challenging goal, but I also know how many great things have come just by striving for it.
Aim for the moon. If you miss, you may hit a star. ―W. Clement Stone (Tweet this Quote)
7) Don't let doubt and fear stop you. (If these things mess with you too much, or worse, actually do stop you, click here to get my personal remedy.)
8) Never let anyone tell you that you can't write a bestseller, that it's too hard, or that you need to do something more reliable. Oh, and by goodness, YES, you CAN have a day job and write a bestseller. Just ask bestselling author, Anne Rice, who did it while working as an insurance examiner.
9) Break the rules. Do it your way. Really. Take this advice very seriously, because books that break out and become hits offer something unique and special. Most bestselling authors could care little about the literary police breaking down their doors in a midnight raid. Let 'em come.
There's many a bestseller that could have been prevented by a good teacher. ―Flannery O'Connor (Tweet this Quote)
10) Perhaps the most important: Stop reading about how to write a bestseller and go create one.
(If you like, here's a poster of the tips you can download, share on your networks, reblog, and even print as a wall poster as a reminder. It's my gift to you. Click on the image for the high-res version.)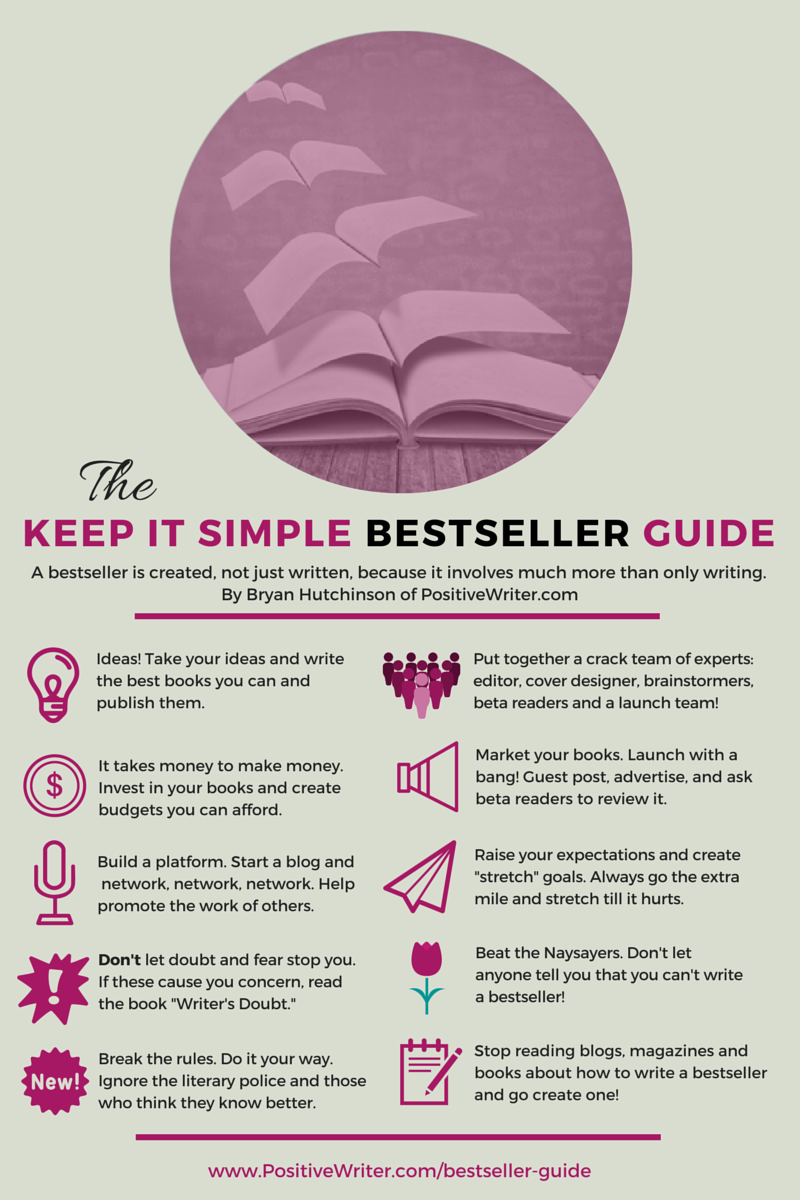 The best advice is the simplest advice:
Don't bother focusing on writing a bestseller, focus instead on writing the best book you can write right now, edit it, publish it, and market the hell out of it, and then eventually start over with a new idea.
I never set out to do this – getting to No. 1 in the 'New York Times' bestseller list wasn't even a pipedream. ―E. L. James, author of the Fifty Shades of Grey trilogy.
If you want the real secret to becoming a successful career writer, it's not about writing a one-hit-wonder, it's the accumulation of, and experienced gained from, publishing several books over time.
As with many of the bestselling authors of our time, the more you write and publish, and the more well known your name becomes, the more your books will sell.
As Seth Godin likes to put it, "Drip… Drip… Drip…"
When your 3rd, 4th, or even your 7th book takes off like a rocket, you can look at everything you did right to create that one bestseller, but I'm willing to bet if you take a good look at what you've done for all of your works, you'll see it's the combination of all of your hard work over time that made it happen.
So keep writing and never, ever, stop promoting your work, because your time is coming.
Are you creating a bestseller? If so, what's it about? Share with us in the comments.
(Btw: The eBook Good Enough can be downloaded for free when you subscribe to Positive Writer.)