I have days when I find it entirely too difficult to get in to my writing groove. On those days I'm uninspired, unmotivated and well, bleh! Maybe you have days like that, too?
The challenge is to put our butts in our chairs and write anyway – good, bad or ugly, come rain or shine. It's easier said than done. Right?
Well, let's work on that…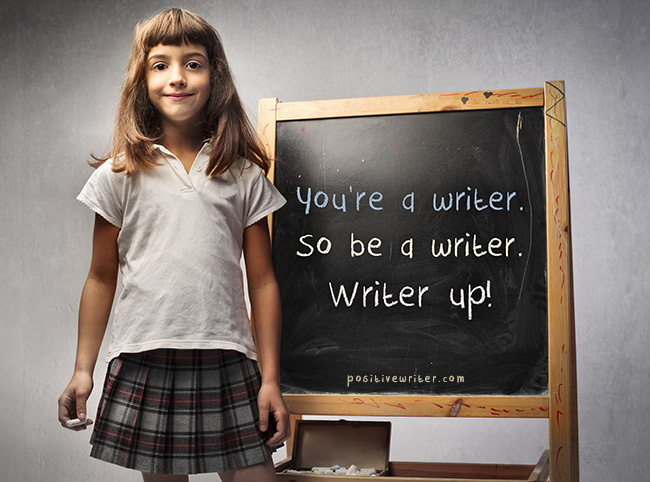 If you love writing (and I know you do!) and you're not willing to compromise, then I've got 36 darn good tips to help you write every-single-day.
Are you ready to put your butt in the chair?
You're a writer. So be a writer. Writer-up!
(Go ahead and Tweet That if you like.)
36 Writing Tips
1 – Stop comparing yourself to the likes of Stephen King, Danielle Steel and J.K. Rowling.
It's not a fair comparison because you're comparing yourself to those who have "made it." If you must compare yourself to the likes of such greats, compare yourself to where they were before they were published.
The best opportunity for your writing future is to simply be yourself. Comparisons are overrated. And besides, you're much better than you think you are.
2 – Intentionally make the time.
Time is the writer's killer. I hear too many people say they don't have enough time to write without giving their schedules a good examination.
It's easier to write every once in a while, or when the urge takes you, but if you're serious about writing and you have big plans (I hope you do), then give it the consideration it deserves and reexamine your schedule.
3 – Have a quota of words to write each day.
Contrary to popular belief it doesn't have to be a large number. 100, 200, or 500 words a day is all you need to get started.
4 – Create a writing sanctuary.
It can be your office, your bed, or the coffee shop down the street, but make it someplace you go to write, every day.
5 – Stop writing when you're on a roll.
A lot of people stop writing when they've totally exhausted their thoughts and ideas and put EVERYTHING down on paper. But that can be a problem for starting the next day. When you stop while you're on a roll it makes it easier to pick right back up where you left off.
6 – Work on multiple projects.
This is easy if you're a blogger. A longer work of fiction gives you something to work on every day, but there will be times when you run dry on ideas or need to take a break, and that's a good time to write your blog posts or other non-fiction work.
7 – Keep a personal journal.
Sometimes when we make a commitment to write every day we have a rather strict idea about how it should be done. If you're over thinking it, then maybe it's time to start a journal.
Personal journals are great for putting thoughts on paper and saving ideas without worrying about your prose.
8 – Ditch the excuses.
I can't tell you how many times I've heard from people that have a day job, a family, or have this hobby or that responsibility, so they don't have time to write like other more fortunate people do.
Hey, if you don't have the time, then you don't have the time. But I'll tell you this, every person I've worked with who said they didn't have the time was able to find the time once they removed their excuses.
Excuses are doubts hiding in disguise. The more excuses you have, (which all sound valid), the more doubt is eating you up.
Doubt is the true culprit, not time, family, or anything else we might blame. Yeah, I've been there, too. I even wrote a book about it.
9 – Take your writing and yourself seriously.
This is where the graphite hits the paper. If you do not take your writing seriously you'll find reasons and excuses, and whatever type of rationalizations you can think of, to not write.
Take it seriously. You're a writer. So be a writer.
To help me with today's post I asked fellow bloggers and Tribe Writers for their tips on writing every day:
10 –
When you're just beginning, don't count your words or your time. Just write. The goal is to have written. Everything else will come with practice.
11 –
Write like no one is going to read it.
12 –
Write from your heart not your head. That's where the gold lives.
13 –
Revisit your previous writing to find inspiration by editing and then rabbit trail to new thoughts to write about.
14 –
Don't wait for the perfect time or the perfect life. Write with 5 kids asking you a thousand questions if you have to. (But do pause to answer their questions now and then.)
15 –
Before you write, fall in love with your reader again. See them enjoying your words.
16 –
Change up your writing, if you usually type in Scrivener or Word, grab a journal and pen instead. I just did this on vacation and coupled with the change in scenery, made some nice discoveries, including my main character's full name.
17 –
Tell your story. Be authentic. When you are stuck, just allow your heart to open, keep typing letters and see what comes out. It will unlock you creatively.
18 –
Read for pleasure every day. And no, facebook doesn't count.
19 –
Write like you talk to your best friend. Be who you are in real life, with no concern or fear of how you're being perceived.
20 –
Don't be afraid to write nonsense. Seriously. Serious nonsense. Even like "I don't know what to write today" which, in my case, often leads into a sort of journaling and processing what I'm thinking or feeling. But yes, sometimes just keep typing (or keep the pen moving) to reinforce the writing habit. And it often opens up the flow.
21 –
Make writing the first thing you do in the morning.
22 –
Schedule time in your calendar to write, and treat it like you would any other appt.
23 –
Leave the dirty dishes in the sink and write. There will always be dirty dishes.
24 –
Don't edit as you write. Just let all those words run out of you onto the paper and then you can decide who will stay, and which ones will be used at a later date.
25 –
Make a public commitment to write every day and have someone (or many someones) keeping you accountable for it. Then put your butt in the chair every day and write. Period.
26 –
Pretend you're writing an email to someone. A real live actual person even, not an avatar. Write as a draft email, if that helps.
27 –
If you're having a hard time starting, start by making a list, stuff you need to do, grocery list, whatever and this can trigger topics to write about.
28 –
A personal experience: Once in awhile I ask myself why do I write or why do I love to write? Every time I ask this question something new comes up and adds another reason to keep going.  Yesterday my answer was: "When I open the door to my notebook and let my pen walk on the pages, I find life inside the letters. The pages listen. I find truth. I find reality. Ink clears my head. I find myself. I become myself. I find my way. I find presence. The letters become lampposts in the wilderness."
29 –
Take your favorite quote, make a graphic, post it to IG, TW, FB, Pinterest and be the light for someone who may need it. (To create the graphic use Diptic, Wordswag or PicMonkey.)
30 –
I use an app on my phone so I can write blog posts and other snippets while I'm waiting for the kiddos at sports games, music lessons, dentist appointments, etc. Inspiration always strikes when I pause to take a breath out of the normal.
31 –
Be yourself, write your own style, write.
32 –
Look for the stories in your everyday life. Write about the fun stuff and lessons learned. Your daily writing will be fresh, authentic and easier to do.
33 –
Don't get it perfect, just get it written. Give yourself permission to write poorly. Edits come later.
34 –
Think about what you're going to write before falling asleep so your mind can work on it as you sleep.
35 –
Comparing yourself to others is a killer of creativity.
36 –
Sit down and don't get up until you have words on paper. Wait until later to revise. It's the butt-in-seat principle.
And have some fun, gosh darn it! Ultimately, both life and work should be as much fun as they are serious.
Also, remove some pressure and don't worry so much about skipping a day or two of writing, simply pick it back up when you can. Everyone deserves a break, even writers. (I know that's hard to accept, but it's true.)
Go, have fun, and write something awesome. (Feel free to share it with us in the comments.)
Do you have any writing tips you'd like to share in the comments?