Today I have the honor of announcing the Top 50 Writing Blogs for 2015!
It's hard to believe an entire year has passed and yet, here we are with a new list of awesome blogs, and we've expanded it from the Top 25 to the Top 50. How cool is that?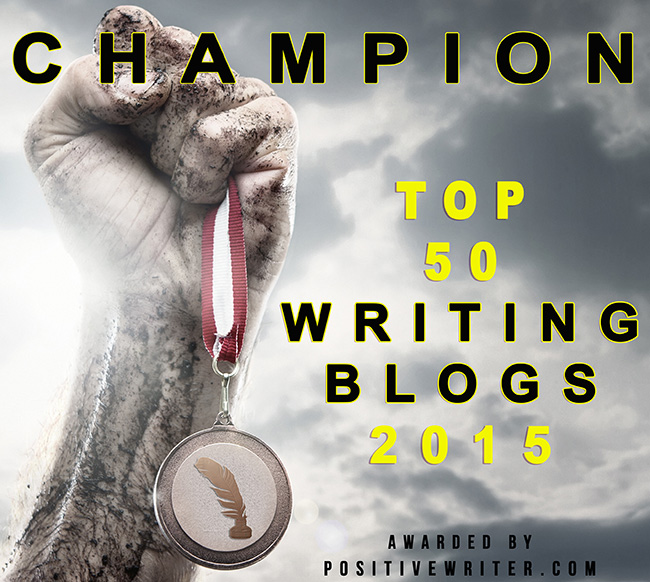 The best-of-the-best are chosen for: 1} quality of content, 2} how routinely they are updated, 3} the amount of reader engagement (comments and social media shares, etc.), and 4} how long the blogs kept me glued to them.
Compiling the Top 50 Writing Blogs has allowed me to discover so many quality blogs I might have never found otherwise and for that I am beyond grateful. However, I must confess there were so many outstanding blogs to choose from that it became extremely difficult to limit the list to a mere 50.
You will notice a few sites made the list that are not 100% about writing, but they are 100% relevant to writers and will not only help you improve your writing, they will also provide you with outstanding tips on how to promote your work.
Be sure to visit all of the blogs and since there are quite a few, bookmark this post for future reference. And, of course, feel free to forward it to fellow scribblers in the Craft.
CONGRATULATIONS to all of the Champions!
A badge is located below the list if you'd like to display your awesomeness on your site. All of you have an open invitation to guest post here on Positive Writer.
Without further ado, here they are:
(In no particular order.)
Bestseller Labs
Awesome post: 10 Key Questions That Can Determine Your Success As A Writer
Goins Writer
Awesome post: "Write Drunk, Edit Sober" Is Bad Advice
Jon Acuff
Awesome post: The writing lesson an emotionally unstable rat in a garage forced me to learn
The Write Practice
Awesome post: 10 Questions to Find Your Unique Writing Voice
Boost Blog Traffic
Awesome post: Why Most Writing Tips Are Useless (and How to Really Up Your Game)
Helping Writers Become Authors
Awesome post: Now! Learn How to Conquer Your Writer's Block and Summon Inspiration
Live Write Thrive
Awesome post: The Forest for the Trees: How to Cure Overwriting
The Wicked Writing Blog
Awesome post: A Clever New Way To Bring Your Characters Alive
Michael Hyatt
Awesome post: Is Your Goal Challenging or Just Crazy? Here's How to Tell the Difference
Make a Living Writing
Awesome post: The Secret Behind Every Successful Writer
Brain Pickings
Awesome post: Overcoming Impostor Syndrome Through the Pleasure of Practicing: A Classical Musician's Assuring Account of Creative Homecoming
Susan Dennard
Awesome post: The Writing Is All That Really Matters
Write to Done
Awesome post: How to Write Better: 3 Secrets of Transmitting Naked Emotions
Jody Hedlund
Awesome post: 15 Ways to Find Writing Inspiration in 2015
The Creative Penn
Awesome post: Write Books You Love. Think Global. Consider Multiple Streams Of Income
A Newbie's Guide to Self-Publishing (Joe Konrath)
Awesome post: Don't Pay to Self-Publish
Writers In The Storm
Awesome post:  Diving Deep into Deep Point of View
Be a Freelance Blogger
Awesome post: How to Turn Every Rejection Into a New Opportunity
Men with Pens
Awesome post: How to Find Your Muse – and Fire Her
Tara Lazar
Awesome post: Three Acting Tips for Writing with Emotion
Writer Unboxed
Awesome post: Six Things Every Writer Needs to Succeed (Psst: MFA is not on this list.)
Writers Write
Awesome post: Five Incredibly Simple Ways to Help Writers Show and Not Tell
Terrible Minds
Awesome post: Five Ways To Respond To A Negative Review: A Helpful Guide!
Better Novel Project
Awesome post: The Golden Age & Other Writing Delusions
Dani Shapiro
Awesome post: On the Right Book at the Right Time
Jane Friedman
Awesome post: Do You Have What It Takes to Be a Successful Author?
The Write Life
Awesome post: Self-Editing Basics: 10 Simple Ways to Edit Your Own Book
Lauren Sapala
Awesome post: The One Mistake Writers Make that Can Ruin their Characters
The Writers Alley
Awesome post: Make BELIEVE in Once Upon A Time (and your story!) 
The Renegade Writer
Awesome post: My 4 Worst Screw-Ups As A Freelance Writer
Inky Girl
Awesome post: In the end, it comes down to having a good story. No amount of promo/networking can substitute.
Kidlit 411
Awesome post: Writing Challenges
Pen and Prosper
Awesome post: How to Overcome Your Envy of Other Writers!
A Writer's Bucket List
Awesome post: Live the Life You're Passionate About
The Procrastiwriter
Awesome post: How a Great Speech Took a Movie from Simple Summer Blockbuster to Cinema Classic
The Write Conversation
Awesome post: Life Hacks that Every Successful Writer Needs to Know
The Kill Zone
Awesome post: Make Next Year the Best of Your Writing Life
Grammar Girl
Awesome post: Transitive and Intransitive Verbs
Writers and Authors
Awesome post: Tips for Gaining Attention in the World of Fiction
Writer's Digest
Awesome post: What is a Denouement? 
The Word's Greatest Book
Awesome post: Commatose: the Oxford Comma, or Serial Comma
Romance University
Awesome post: Finding an Agent with Diana Cosby
 The Book Designer
Awesome post: 20 Ways to Become a More Productive Writer
Writers Helping Writers
Awesome post: 10 Reasons Why Your Hero Needs Flaws
Kristen Lamb's Blog
Awesome post: Here's to Breaking Writing Rules—Rebels With a Cause or Rebels Without a Clue?
David Gaughran
Awesome post: Self-Publishers Aren't Killing The Industry, They're Saving It
Kristen Eckstein
Awesome post: Four Secrets to Market Your Book to the Locals
Books & Such
Awesome post: Four Elements That Make a Book a High Concept
Go Teen Writers
Awesome Post: Two Ways to Make Effective Writing Goals
LittleZotz Writing
Awesome post: What to Do When Writing Keeps You from Writing
Join me in congratulating the champions in the comments.
Tweetable:
The Top 50 Writing Blogs ROCK! Check them out.
Champions, here's your badge: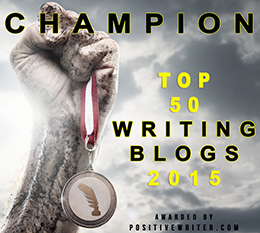 Feel free to post the badge in your blog's sidebar and link it back here to this post. I have also created HTML code that you can copy and paste into a sidebar widget, simply copy the text from this plain text file.