Note:
This is a guest post by Natasa Lekic, she is the founder of
NY Book Editors
, which connects independent authors to highly experienced editors. She's a big fan of what authors manage to do when they believe in themselves.
The question every writer with an early draft wants to ask editors and literary agents is, "Should I keep writing?" They want to know if it's any good, otherwise they'll quit wasting their time. It sounds like a reasonable inquiry…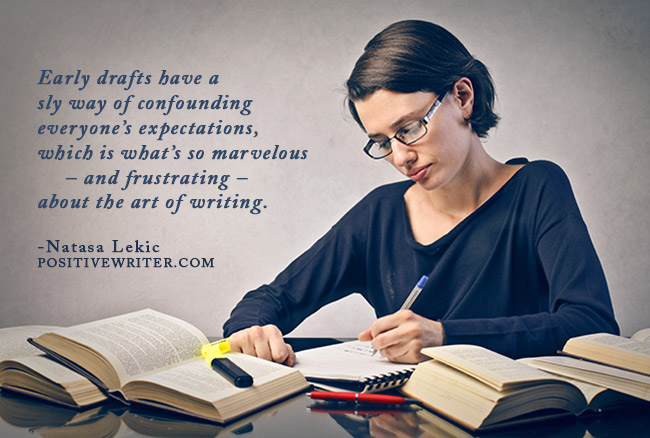 Shouldn't editors and agents, who have seen countless manuscripts at all stages of their evolution, be able to make that judgment call? You're simply asking a professional, much like a car mechanic, whether you should scrap the car or not.
The only problem is, a manuscript contains many more possibilities than a car. Take Alex Brunkhorst as an example.
Alex had been developing her manuscript for over a year, writing every morning, alongside a demanding full-time job. Her level of commitment matched her ambitions. She wanted to find a top agent and a major publisher.
The only problem was the manuscript itself. "It lacked a cohesive plot and the pacing always seemed off … but I didn't know how to fix that. A well-known literary agent passed on the book because she deemed it "unsaleable" and I was so devastated I almost put it down for good," said Alex.
Alex's editor at NY Book Editors also felt there were big-picture issues that needed to be addressed. Most authors would have been daunted by the scope of the changes. They might even have taken it as a sign to stop writing. Alex did exactly the opposite.
"This was one of the first times that I had experienced flat-out rejection and was able to believe in myself and my work enough to stick with it. It was a huge lesson for me, and it's made me more resilient and brave in all aspects of my life," she said.
A few weeks later, she came back to her editor. All the advice had been incorporated – seamlessly – into the manuscript.
Alex and her editor kept going at a more advanced level. Alex would revise a chapter at a time and send it over for an edit. Every time Alex got an edit, she'd study each and every change, whether it was a pacing issue or a word choice or a dialogue problem. Every edit contained a lesson.
Alex didn't just accept the changes, she absorbed them. Chapter by chapter, her writing got better and better until ultimately, her editor didn't have much to do. It was a stunning transformation.
In four months, the manuscript was reengineered and ready for submission.
"When I sent out my manuscript to agents I didn't sleep for three days, hoping I would get one or two interested enough to represent me. I was so fortunate that I ended up with a lot of interest — from all different types of agents, some commercial, some more literary, … some who had already shepherded authors to the bestseller list. I flew to New York (I live in LA) and I took three days of meetings with agents. I ended up choosing Michelle Brower at Folio Literary."
The world rights to The Gilded Life of Matilda Duplaine, a book that was considered "unsaleable", was sold in a pre-empt deal to Erika Imranyi at Harlequin/MIRA for six-figures. (A pre-empt is a deal that's offered before the book is auctioned.) Alex retained the film rights and CAA is taking them out in January.
Books that are initially considered unsaleable get sold all the time. Early drafts have a sly way of confounding everyone's expectations, which is what's so marvelous – and frustrating – about the art of writing.
Early drafts have a sly way of confounding everyone's expectations. (Click to Tweet)
The reason why no one, not even editors with a slew of fancy credentials and New York Times bestsellers, can tell you whether you should continue writing is because they've all worked with authors like Alex. Given time, practice, and persistence, some authors wield an unpredictable magic on their work.
Asking an industry veteran to take a look at an early draft and tell you whether you should "keep writing" is like asking them to predict the future. There's no telling what an early draft can become. Weak drafts have turned into splendid books; promising drafts have deteriorated into duds.
For better or worse, manuscripts contain a multitude of possibilities.
You may be disappointed by today's draft, but remember that an early draft is no indication of anything. The best advice anyone can give you is: keep at it. No one knows what you have there.
Do you have a question you would like to ask an editor?
Here's an opportunity to ask – in the comments.