Note:
This is a guest post by Sundi Jo. She's a speaker, author, and blogger, inspiring others to break free from self-destructive behaviors and experience lasting transformation. Oh.. and she lost 145 lbs. Connect with her on 
Twitter 
and her 
blog
.
Anyone can write. You can easily put pen to paper or your fingers to the keyboard and create words. However, not everyone creates art. Do you?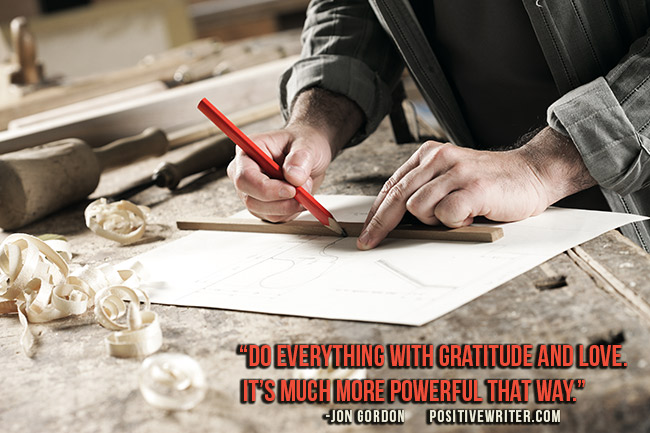 Our culture is swimming in a sea full of writers. With the ability to self-publish a book in a few clicks, more people today are calling themselves authors than ever before.
I have to wonder how many are pushing the publish button for the sake of writing, or because they truly have a piece of art to share with the world.
Moving from Carpenter to Craftsman
In his book, The Carpenter, author Jon Gordon writes about J., a simple carpenter at first glance, who saves the life of Michael, an overworked, stressed out business owner who collapses during a morning run.
When Michael calls to thank J., he receives more than a simple, "You're Welcome." His life is changed by the wisdom of a man who simply "builds things."
J. shows up to build Michael a new entertainment center, but what's built is a new view of life, work, relationships, and art.
Michael quickly learns J. isn't just a carpenter; he is a craftsman. Every piece of furniture he created wasn't just thrown together with a few nails. It was built with character, patience, and love for the people it would serve. There was purpose behind the masterpiece.
We can often find ourselves throwing together a blog post for the sake of blogging, or throwing something together just to grow our newsletter list. We build something just for the sake of building. We're carpenters.
But what if we built our masterpieces like a craftsman – with character, love, patience, and love for the people it would serve?
Never do anything out of obligation
Gordon says,
Do everything with gratitude and love. It's much more powerful that way. (Click to tweet this quote.)
I think he's on to something. I've found myself simply writing out of obligation because people "expect" things from me. I build words, hit publish, then feel all I did was simply fill up cyberspace with another blog post without meaning. I want to create art, not white noise.
Several months ago I was too busy with life and my blog was taking a backburner. I needed some content and I needed it quick.
One of the main topics I write about is health and wellness. A newsletter showed up in my inbox about the dangers of artificial sweeteners. I thought to myself, This will be good to write about. I'm not a fan of them. I can educate my readers on the danger, too. All I need to do is tweak a few things and add my own style. 
The problem, however, is that I wasn't interested in educating them. I was interested in having content scheduled to go out by the deadline so I wouldn't look like a failure for not writing something.
No one knew I did that. But at the end of the day I knew.
It wasn't the content I wrote about that was the problem. It was a heart issue. I didn't value my readers at that point. I valued looking like I had it all together. I deleted the post the next day.
When I sit down with my audience in mind, and the love for those I'm writing for, a passion takes over that doesn't come from obligation. It comes from the desire to serve others – to craft something that calls others to action to better themselves.
Doing what we love for a purpose, rather than a requirement is what takes us from carpenters to craftsmen. That's the decision that makes our work become a masterpiece.
Are you doing what you love? Tell us about it in the comments.