Today was an astonishingly wonderful day. One of the best. Ever. Perhaps even life changing.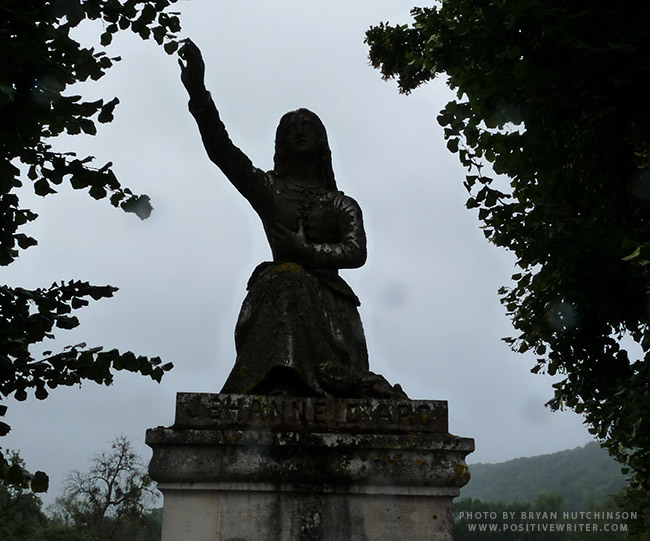 Joan Faith (my wife) and I took a trip to France to visit Joan of Arc's birthplace in Domrémy-la-Pucelle. It's not the kind of place you might run into if you're merely visiting Paris or another wonderful French city. It's far off of the beaten path. It's out in the French sticks as Joan Faith joked today. You have to deliberately decide to visit there and then dare to venture deep into the vast and intoxicatingly beautiful French countryside.
We almost got lost twice as we drove the narrow and winding roads for hours, doing several U-turns along the way, and we nearly ran into a few cows that seemed stranded along the side of an extremely narrow road. Thankfully my lightning reflexes saved them (and us) as I screamed "oh sh…" and swerved out of the way. I needn't worry about oncoming traffic; we were way out in nowhereland and no one else seemed to want anything to do with the freshly fertilized farmlands.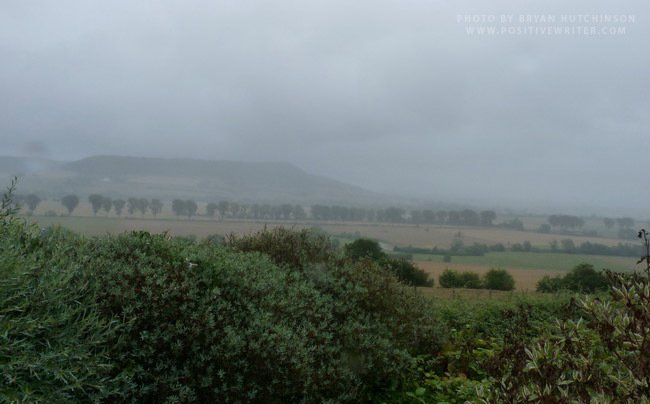 We finally made it to Joan of Arc's hometown about noon and somehow before we saw the sign stating where we were, we knew we had made it to somewhere special. As I suspected, as we drew closer and closer to the village with only spotting scant few cars along the way, the town was practically deserted. It was just too far away from everything for casual visitors.
The first place we came to and near where we parked was a statue commemorating Joan of Arc (pictured above). When we saw the statue we knew we had arrived. Without realizing it we parked directly across from the church Joan of Arc had attended as a child and where she had heard the voices directing her to reunite France and Crown the rightful King.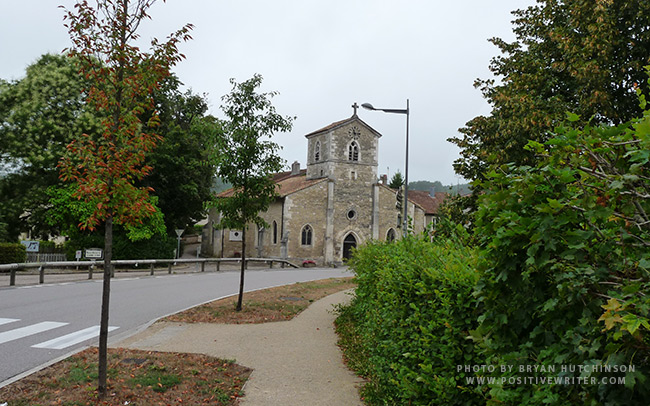 We went in the church and although we have visited hundreds of grand cathedrals, churches, and domes across Europe, including the Notre Dame in Paris and the Speyerer Dom in Speyer, this little church so far away from any major metropolis was the most awe-inspiring I have ever visited.
We were lucky to find the church empty of people and thus we had it entirely to ourselves. I don't recall taking as much time for any other church. It was as if we didn't want to leave. In truth, we really didn't want to leave. Although it was about 600 years old it was very well tended.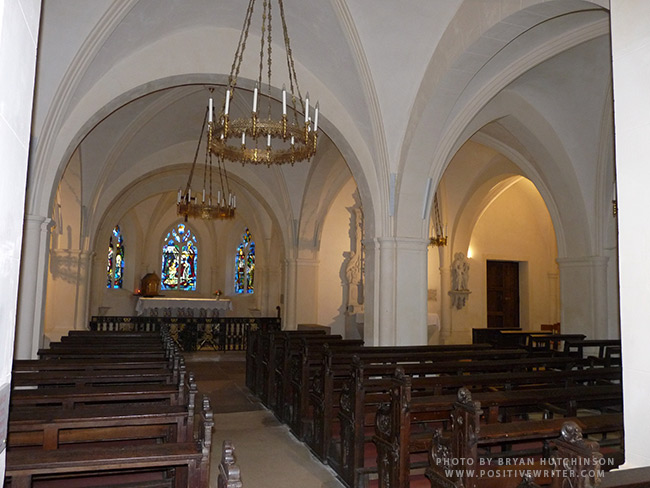 But there was something else about the inside of the church that I found more interesting and captivating than anything I had experienced before. After a while of viewing the pictures and commemorations, I noticed something anomalous.
It was hard to define at first, but ever so slowly I realized what it was that was unusual. It was silence. It was incredibly quiet in the church. There wasn't so much as the slightest creak from the building. The silence was overwhelming. So much so that once I became aware of it, it was gone! Suddenly I could hear a car passing and other sounds coming from outside. I shrugged it off and then continued to enjoy my visit.
It wasn't long before I realized I was wrapped in the silence again. The silence was so peaceful and comforting that I wanted to say something about it to Joan Faith, but then decided not to as she seemed wrapped up in her own visit as well.
I tried to imagine what it must have been like for Joan of Arc so many hundreds of years ago, when there were no cars, or any of the many modern sounds we have today, and quite likely very few travelers coming through the town. The silence in the church in her time must have been tremendous.
Tremendous, indeed. I had many thoughts about how someone could get caught up in the tranquility of the quietness, but then I started thinking about something else unexpectedly. I began to consider how many interruptions we have in our daily modern lives today – from smart phones, to keeping up with friends (both close and distant) via Facebook on an ever increasing basis, to constantly checking Twitter for updates.
In Joan of Arc's day, things were much simpler and one's focus was on the here and now. Information was slow and world events were really local events. If you knew about something happening in the world back in Joan of Arc's time that meant it was happening very close to your residence.
What struck me in the midst of the silence was that I am trying to do entirely too much. I have ADD and I function better when not distracting myself with too many irons in the fire. But then maybe all of us have become a little ADD thanks to the times we live in.
I'm not sure how I got struck with that thought, but the more I considered it the more I realized it was true. Somehow Joan of Arc taught me something in the stillness of that little church.
It was astonishing, but it shouldn't have been. She taught me that I need to slow down in order to focus. Do less so that I can do more, better.
Slow down. Focus.
You're doing too much. Hone your focus.
No, I wasn't hearing voices. But my own truth was speaking to me. The quiet allowed me to consider more clearly the issue of trying to keep up with and doing too much.
As a writer I feel compelled to write, publish, blog, market, take online courses to learn more about writing and blogging, participate in webinars, and attend conventions, give lectures, guest post on other blogs, write some more, go to work (I enjoy a day job), publish some more, and then, of course, I have a life with my wife.
That's just part of the list, I don't even want to begin talking about all of the offers I receive every day, every time I turn around I'm asked to promote the latest and greatest author, the latest online class, and I keep getting the message that I need to create my own online course to help writers overcome their writer's doubts.
It's just: Too. Much.
Really. It is.
I've decided that going forward I'm going to change and I'm going slow it down. I'm going to get back to writing naturally and not over-edited and contrived for the masses. No more being overly concerned with comma splices. Blogging should be more about writing freely, having fun, making friends, and helping people along the way.
I know, I've written a thousand times that if you're going to publish something you must market it. Well, what I realized today is so profound that it has changed my perspective, perhaps forever.
Joan of Arc came from way out in the sticks. Literally. Today we went there by car and on (somewhat) paved roads, and still got turned around several times. I can't imagine what it must have been like around six hundred years ago and to think the most famous heroine in European history found her way out of from there, a peasant girl, uneducated and unable to read and write.
She didn't have a lot and she didn't need a lot, but she had a lot of what mattered, such as determination, drive, and focus, and two primary missions. Her missions were to see Charles VII crowned and to liberate and unite all of France. She accomplished both, one, making it possible to crown King Charles VII before the age of 19, and the other came after her death but no less due to her efforts during her life.
How in the word did she do it? She didn't have TV, she didn't have Facebook, and she really didn't have much of any means beyond what a peasant girl would have in the 15th century.
What St. Joan had was a calling and she focused only on that calling. She didn't multi-task with 45 other missions pulling her left and right, she focused like a laser and did what she was meant to do.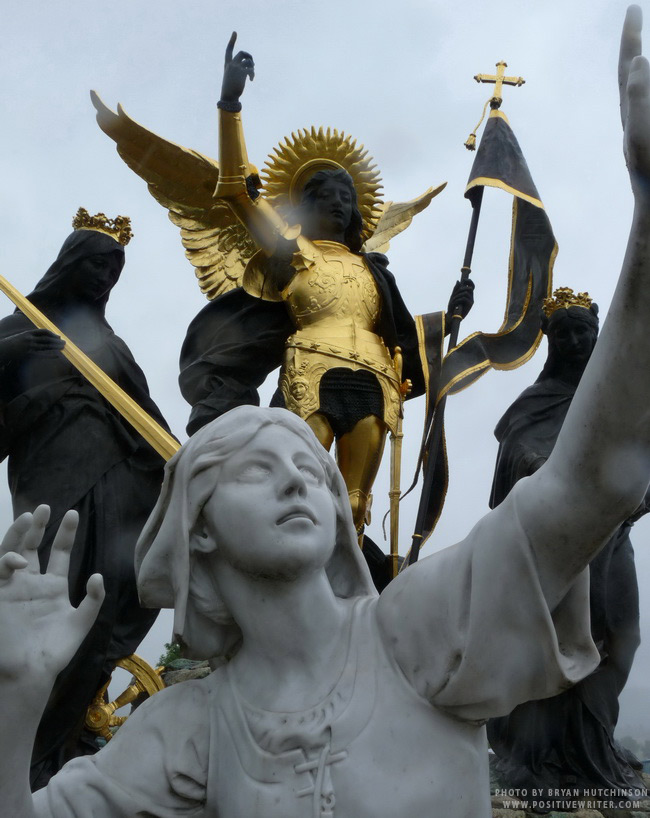 I don't claim to understand, much less, know, The Maid of Orleans, but somehow in the small quaint church in Domrémy-la-Pucelle I realized focusing primarily on your calling is more important than trying to be everything to everybody and doing everything everyone tells you that you need to do in order to be successful.
Slow down. Focus.
I don't need to be the next master marketer like Seth Godin. I don't. And I am exhausted from trying to be. It's not my calling.
My calling is to help others through my writing, to help you and other writers overcome doubt, to help you write with courage and audacity. I need to focus on that mission.
What this might mean for you
Writers have become the ultimate multi-taskers and so many of us feel boxed into corners because everyone is telling us what we absolutely must do in order to succeed as authors. It's quite a lot we have to do and consequently actually writing has become the least of it all.
However, I must admit, I don't see too many people becoming very successful authors by wearing so many different hats. I now think it's because our focus has been compromised and so divided that it is affecting not just the amount we are writing, but also the quality.
Maybe it's time to rethink the amount of tasks we are trying to accomplish and instead focus on the mission that we excel at. In other words, it's time to do less, better. We should focus more on writing and thus write better.
(If you're not a writer, then the message is the same for whatever your calling is. Focus.)
Our attention has become too divided.
Practically everyone who is in the know tells us we need to get used to wearing many different hats or else we are going to fail. What if the reason why writers are failing so often in today's writing, blogging, platform building, and publishing world  is because we are trying to hold down so many different jobs? Marketers, book cover designers, internal book layout designers, self-publishers, platform builders, audience gatherers, and self-pickers (whew!)… the list goes on and on.
The message is clear. Focus on what you do best.
Be the best writer you can be.
The reality is that most people are splitting their focus in so many directions that either a) they're not able to give their best on each task, b) they don't finish the main project because they're too worried about how to complete the other tasks satisfactorily, c) they do everything half-ass because it's just way too much and half-ass is a natural result of doing too much, or finally, d) they give up.
Of course, some people are natural jacks-of-all-trades and comparing yourself to them isn't fair.
Sometimes it's best to be a master of just one or two things and focus your talents there. Joan of Arc just taught me that, or at least that's what I learned from visiting the unassuming, yet amazingly remarkable church she used to attend in her little village.
What do you think of doing less to do more, better? What are you best at doing? Share in the comments.