Today I have the honor of presenting the Top 50 Writing Blogs for 2016!
Welcome to the THIRD annual Top Writing Blogs Awards on Positive Writer. The annual awards post for best Writing Blogs are a special treat for everyone, you'll discover new blogs, celebrate and congratulate your favorite ones, and, if you're one of the winners, enjoy a well deserved award of recognition for your hard work!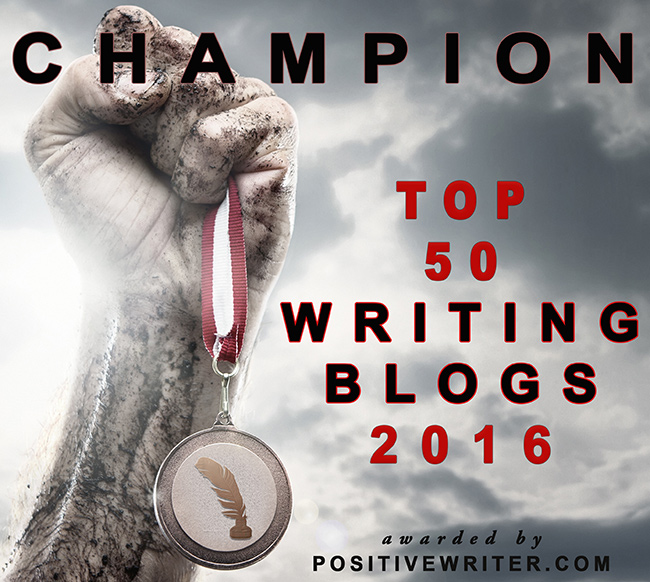 The best-of-the-best blogs are chosen for: 1} quality of content, 2} how routinely they are updated, 3} the amount of reader engagement (comments and social media shares, etc.) and, 4} several blogs were selected from the list nominated by Positive Writer readers.
Be sure to visit all of the blogs and since there are quite a few, bookmark this post for future reference. And, of course, feel free to forward it to fellow scribblers in the Craft.
CONGRATULATIONS to all of the Champions!
A badge is located below the list if you'd like to display your awesomeness on your site. All of you have an open invitation to guest post here on Positive Writer in 2016.
Without further ado, here they are:
(In no particular order.)
Jerry B. Jenkins
Awesome post: Story Writing 101: The 3 Essentials of a Page-Turner
Goins Writer
Awesome post: How to Never Worry About What to Write Again
Write to Done
Awesome post: Are Your Ready For The Great Writing Challenge 2016? [Part 1: Overcome Barriers]
The Write Practice
Awesome post: Screw the Muse: You ARE a Writer
Writers Helping Writers
Awesome post: On Writing Badly and Redefining Failure
Boost Blog Traffic
Awesome post: 7 Warning Signs You're Suffering from Small List Syndrome
Helping Writers Become Authors
Awesome post: The Re-Readability Factor: Does Your Book Have It? (5 Ways to Make It Happen)
Live Write Thrive
Awesome post: 7 Ways to Help You Be Precise in Your Writing
The Wicked Writing Blog
Awesome post: Try This New Writing Strategy To Refresh Your Stories – And Your Life
The Creative Penn
Awesome post: 7 Mistakes You're Making With Your Author Blog And How To Fix Them
Steven Pressfield
Awesome post: Make Your Hero Suffer
Make a Living Writing
Awesome post: 2016 Forecast: Top 12 Great-Paying Freelance Writing Gigs
Brain Pickings
Awesome post: Believe the Praiser and Dismiss the Praise: Donald Hall's Advice on Writing
Jody Hedlund
Awesome post: 5 Traits That Foster Publishing Success
A Newbie's Guide to Self-Publishing (Joe Konrath)
Awesome post: Pay the Writer
The Writers Alley
Awesome post: 7 Ways to find Writing Friends
Writers In The Storm
Awesome post:  Tackling a Writer's Greatest Challenge—Time Management
Be a Freelance Blogger
Awesome post: What Editors and Publishers Really Think of Your Writing Job Applications: An Inside Look
Men with Pens
Awesome post: Why Some Freelance Writers Struggle to Get Clients
Tara Lazar
Awesome post: Picture Book Literary Agents and What Excites Them
The Write Conversation
Awesome post: 13 Truths About Being a Writer
The Word's Greatest Book
Awesome post: The Singular They is Now Officially Correct
Writer Unboxed
Awesome post: The Haves and the Have-Nots:  Surviving Writer Envy
Better Novel Project
Awesome post: Lessons for Writers from The Dark Knight
Writers Write
Awesome post: 37 Ways To Write About Anger
Terrible Minds
Awesome post: 25 More Hard Truths About Writing And Publishing
Jane Friedman
Awesome post: Long-Term Marketing Models for Self-Published Authors
The Write Life
Awesome post: Stuck in a Winter Writing Rut? How to Be More Productive This Season
Lauren Sapala
Awesome post: The Difference between a Critique Group and a Writing Coach
The Renegade Writer
Awesome post: What It Means When Your Writing Is Rejected
Kidlit 411
Awesome post: For Writers
The Procrastiwriter
Awesome post: Breaking the Not-Writing Cycle
Marcy McKay
Awesome post: Why You Should Embrace the Risks in Your Writing
The Kill Zone
Awesome post: Do You Really Need an Editor?
Go Teen Writers
Awesome Post: How To Change The Heart Of Your Characters
David Gaughran
Awesome post: The One Where An Author Steals Text From My Book To Sell Pirated Software
Writers and Authors
Awesome post: Traditional vs Self Publishing Which Is Best For You?
Writer's Digest
Awesome post: What You Can Do Now to Master the Business of Writing
The Book Designer
Awesome post: 7 Book Marketing Trends Authors Can't Afford to Ignore
The Book Ninja
Awesome post: 5 Instant Solutions for Achieving Your Writing Goals
Books & Such
Awesome post: Writers – Don't Try This at Home
LittleZotz Writing
Awesome post: Writers VS. Editors: We're All Winners Here!
Curiouser Editing
Awesome post: Writer-Friendly Marketing Products for a Productive 2016
She's Novel
Awesome post: 8 Steps To Pursuing a Professional Writing Career
Reedsy
Awesome post: Overcoming Writer's Block
Dead Darlings
Awesome post: Making it Work: 4 Tips for Squeezing Writing between Job, Kids, Life
BLOTS & PLOTS
Awesome post: 5 Ways to Find A Writing Community 
Vanessa Carnevale
Awesome post: How Books Are Made From Stolen Moments
River of Thoughts
Awesome post: Four Things Writers Can Stop Stressing About Right Now
J.F. Gibson
Awesome post: Putting my writing out there
Join me in congratulating the champions in the comments.
Tweetable:
The 2016 Top 50 Writing Blogs ROCK! Check them out.
Champions, here's your badge: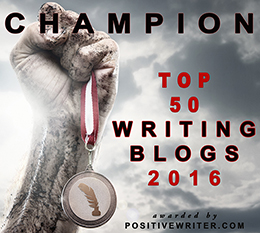 Feel free to post the badge in your blog's sidebar and link it back here to this post.
Do you have a favorite that wasn't mentioned and you want considered for next year? Share it with us in the comments!