Update:
I have teamed up with award winning book cover designer,
Alexander von Ness
, to offer,
in addition
to the prizes already offered
, an
all-in-one 
book cover design package for 1st place. That's a
$500.00
value! If you do not have a book ready you can hold onto the voucher for up to 5 years or gift it to another author. See the rest of the prizes below.
All Writers have experienced doubt. None of us are free from never being doubtful about our ability to create work that matters. If you'd like to share your story about dealing with Writer's Doubt, and in the process help others realize they're not alone, enter this contest!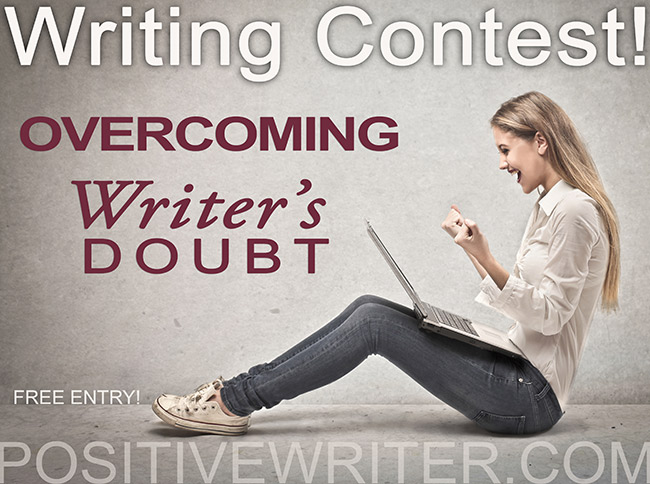 This writing contest will run until 3 Oct, 2014
The prizes are:
1st $100.00 Amazon gift card
+ all-in-one book cover design package ($500.00 value!)
2nd $75.00 Amazon gift card
3rd $50.00 Amazon gift card
Your entry will be an essay about an experience of yours in regard to dealing with Writer's Doubt.
I'll be looking for how well you share your story in an inspiring way. I'm not looking for technically perfect stories. I am looking for real stories that I believe will inspire others to continue writing and not give up in the face of doubt.
Share your story about overcoming Writer's Doubt.
Maybe you haven't overcome all of your doubts (who has?), but I bet you have had an experience with Writer's Doubt when you found a way to press on. Share that experience with us.
For a great example of such an experience, read Joe Bunting's foreword to my book, Writer's Doubt. You can read Joe's entire foreword for free by visiting Amazon and click on the book cover for the "look inside" sneak peak.
How to enter:
1. Post your essay between 300 to 1000 words on your blog as a blog post. (You need a blog.)
2. Consider leading in to your post with: "I am participating in the 'Writing Contest: Overcoming Writer's Doubt' held by Positive Writer." You can phrase it as you like, but make sure there is a hyperlink back to this post to qualify.
3. Paste the link to your entry in the comments below.
It's very important that you put your link in the comments to this post because that's your official entry. One of my goals for this contest is for the comments to become a great resource of links for fellow writers to find an awesome collection of inspirational stories about overcoming Writer's Doubt.
I will announce the winners via a blog post around the middle of October 2014. (The best way to stay updated is to subscribe.)
I will also publish all 3 of the winners posts individually as guest posts. (Great exposure for you.)
Most bloggers are looking for a fresh topic to write about, so here you go, and you just so happen to be able to enter it into a fun contest, too. Hey, and by sharing your story you might even help another writer. Wouldn't that be awesome?
Get ready, set, go! I'm excited to read all of your entries.
If you have questions please ask them in the comments.
(Feel free to use the picture in this post, if you like.)
*Remember, I highly recommend reading Joe's foreword to "Writer's Doubt," for a clear idea of what I'm looking for in this contest. Simply check out the
sneak peak on Amazon
 for free. Reading the entire book is optional, but hey, it couldn't hurt.