Have you ever surprised yourself? You know, did something far better than you expected and yet, you don't have a clue as to how you did it? I bet you have. How did that make you feel? Pretty good and yet, pretty confused, I'm sure.
What's the secret to knocking your work out of the park?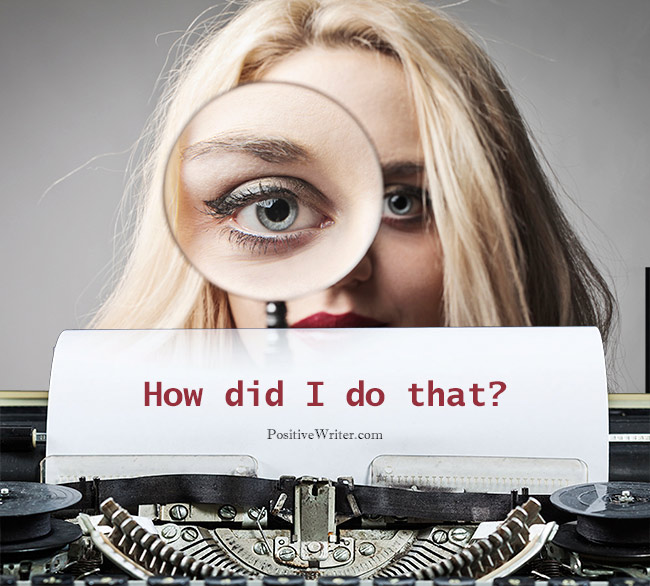 When I began Positive Writer I didn't have crazy high expectations, I just wanted to write about my passion, which is… writing. My only real goal was to try my damnedest to inspire, encourage and motivate fellow writers and artists.
So, as this year ends and I started to look back at the year to choose the best posts from 2016 and I thought, hey, why not post the top ten posts all time so far, which includes outstanding posts from Positive Writer contributors based on views and social shares.
That's what I'm going to do, but before I do, let me just say thank you! Several of the below posts have had over a million views each and the first one listed has over 55,000 social shares by itself. That's crazy. In the best way possible, and could not be done without our readers like you sharing our work.
The Secret to Success
How did we accomplish such feats? Truth is, we don't know. Really. We don't.
You don't know, either. Seth Godin doesn't know and neither does Guy Kawasaki or anyone else, but they have their ideas. I have my ideas, too.
I ultimately believe that in each post we hit on something that meant something to a lot of people and it's not always clear what that something was.
The Secret Formula
We didn't use any research on what type of post goes viral or how to write them in order to ride a mainstream wave. Nope. No analytics to see which type of article was most likely to succeed.
We just wrote from the heart and tried to do what we always intend to do, inspire you. That's it. There's no secret formula.
I'll admit, on occasion, I try to mix themes into current hot themes in the mainstream, such as with last week's "Use The Force" post, but whether the posts are successful or not due to the mainstream connection is hard to say. Sometimes I think so, sometimes I don't – especially when they tank.
It's not about being the best.
For me, personally, I'm not the best writer. I'm not the worst, either. I'm not trying to be something I'm not. I write what's on my mind, honestly, openly and considerately. More often than not, that's exactly what it takes.
Don't spend time beating on a wall, hoping to transform it into a door.

— Coco Chanel (Tweet This)
You can write a thousand articles and have none go viral. You can write just one and have it launch into the stratosphere. Nobody really knows exactly how this works, or why.
There's only one Stephen King and there was only one Michael Jackson. People try to copy them all of the time, but a copy is merely a copy. You're not fooled.
You can write nearly identical copies of all of the posts listed below and not get more than a handful of people to read them, or you could get a million.
Nobody knows.
But here's a tip. I think it's important:
Write what matters to you.
Write from the heart. Say what you want to say the way you want to say it. Nothing trumps your voice. Nothing. Say what you've got to say in the way only you can say it.
And, sorry, but contrary to all the "pro" bloggers out there, don't expect so much. High expectations don't add anything of value to your work, and, in fact, could cause your writing to become inhibited.
Inhibited writing lacks conviction and audacity, and quite simply, isn't inspiring.
Once upon a time starving artists who became rich from their writing didn't always have a plan, but they had an idea and wrote with all of their heart until they got to "The End."
There's no guarantee anyone will buy your work, or even care about it. None. Zero. The reader owes us nothing.
When J.K. Rowling came up with the idea for Harry Potter on a train ride in 1990, she had no publisher arranged for any book she might write and besides, she had many other concerns, but she wrote anyway. She wrote from her heart.
The hardest lesson we'll ever learn is that our writing should never be about "making it." Nothing inhibits a writer more.
It's better to have a day job than pressure your writing to be something other than what you intend it to be. Rowling was training to be a teacher when she finally found a publisher for Harry Potter.
Write your best work by remaining true to yourself.
Dream big and dare to fail.

— Norman Vaughan (Tweet This)
Here's the thing, when your work does take off, you're not going to know exactly why it did, but enjoy it while it lasts. You may be able to repeat it in future works, but maybe not every time and that's okay, too. It has to be.
It's hit and miss, this writing business is.
You might not be the next Seth Godin of blogging and you might not be the next Stephen King of novel writing and you might not be the next Michael Jackson of music, but you don't need to be.
You need to be YOU
Let that be enough and go from there. You will surprise yourself.
It is never too late to be what you might have been.

— George Eliot (Tweet This)
Here are our top ten blog posts all time (so far):
Top Interview:
Conducting celebrity writer interviews here on Positive Writer, with the likes of Seth Godin, Jeff Goins, Jerry B. Jenkins and Guy Kawasaki, to name a few, is a huge bonus and readers absolutely love them, but it's still extremely rare when an interview goes crazy viral.
Actually, I've never seen it happen until in 2016 when I interviewed Mark Gottlieb, who has ranked #1 among Literary Agents on Publishers Marketplace. So here it is:
That's what we've done so far. I'm looking forward to another awesome year and I know great things are coming your way.
Keep writing. But most of all, keep being you.
Have a wonderful and a happy new year!